I love giving the gift of photos, videos, and heartfelt messages for Father's Day (or any special day, really), but they're not exactly the easiest things to give long distance to say, a grandpa.
Do you attach a video to an email? Send a sweet text? Print out a photo and like…mail it? (I know, I'm hilarious.)
That's why I was so thrilled to discover Imprint when my friends gifted one to me for my 40th birthday. This cool service allows you to collaborate with friends, family, or basically anyone you invite to your Imprint to create a beautiful digital memory book that combines everyone's photos, videos, and notes into a url they can click and watch.
After seeing — and yes, weeping through — my very own Imprint, I couldn't wait to share it here. Especially with Father's Day coming up.
Related: 11 creative Father's Day gifts for the guy who's hard too shop for
Simply sign up, then you'll be prompted to invite people, either via your contact list or just by inputting email addresses. (Hint: We'd input the email addresses manually, just for privacy reasons.) Set a due date — and reminders so you don't have to do the nagging– then customize the invitation to your friends, and wait for their notes, photos, and videos to roll in.
Everyone can upload their own photos, videos and notes, so you don't do. Or, they can just type a simple well wish if that's what they prefer.
It's so ridiculously easy to use for everyone — something that's extremely important since no one has the time to be giving personal tutorials to every cousin cross the country or college student overseas.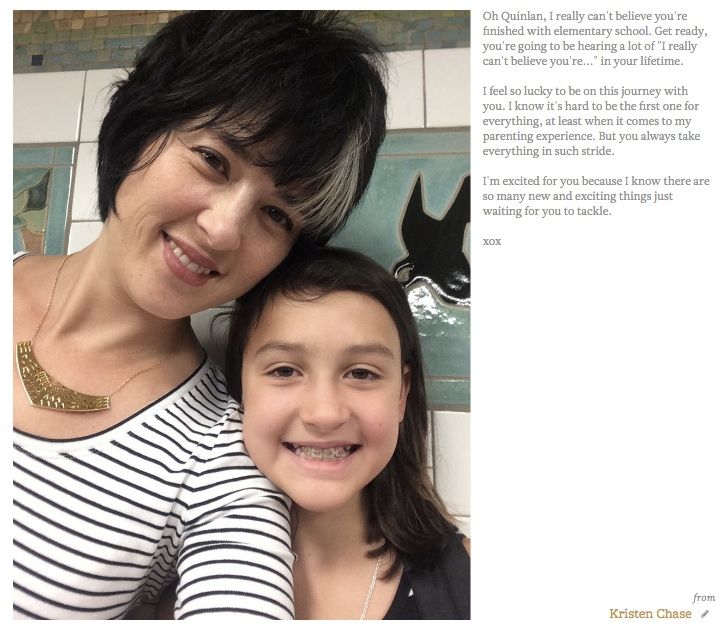 A sample image from the Imprint I made for my daughter's graduation
When you've got all your media, you can arrange the messages however you wish, before sending via email or downloading it to a device to watch as a slideshow.
When you upload videos, the result kind of like one of those Harry Potter albums with the photos that move. Here's a sample Father's Day Imprint from their site to give you an idea. Very cool!
And if you really love it and want to save it as a keepsake, you have options to play to upgrade to receive a printed version, which includes  concierge service to assist you in creating your message.
Related: 21 unique Father's Day gifts (good ones too!) for the dad who has everything
The one downside of Imprint from what I can tell, is that you can't edit or delete someone else's message if someone sends something that's got typos or is uh…not quite appropriate. I would have also liked the option to restrict everyone invited from being able to read everyone else's messages but I suppose for most dads it's not like everyone's going to be confessing all their juicy secrets or anything.
(Just keep this in mind if you're sending one with a bunch of school friends for a graduation gift, ha.)
But considering Imprint is a free service I'd say those are pretty minor complaints, considering you get to create a digital keepsake that a dad, grandpa, or anyone you love will really treasure.
Plus, you get to be the cool tech-savvy person in the family who finds all the neat gift ideas. That says something.
Head over to Imprint.us to create your own Imprint.