I've been a work-from-home mom long before the pandemic was a thing, but it usually translated to "work from cafe" or "work from library" mom. But, I have to say, I'm kind of happy that this past year has created the new habit of actually working from my home and I'm ready to make my home office a little more functional and efficient with some cool home office gadgets I recently discovered.
Hey, the price of all those lattes I'm not ordering will cover the cost of some of these upgrades, right?
This post contains affiliate links, which means we may receive a small commission from certain purchases to help support the work we do at no additional cost to you.
Photo by Arnel Hasanovic on Unsplash
Related: The 15 minute trick: A smart, easy way to spring clean and organize your home office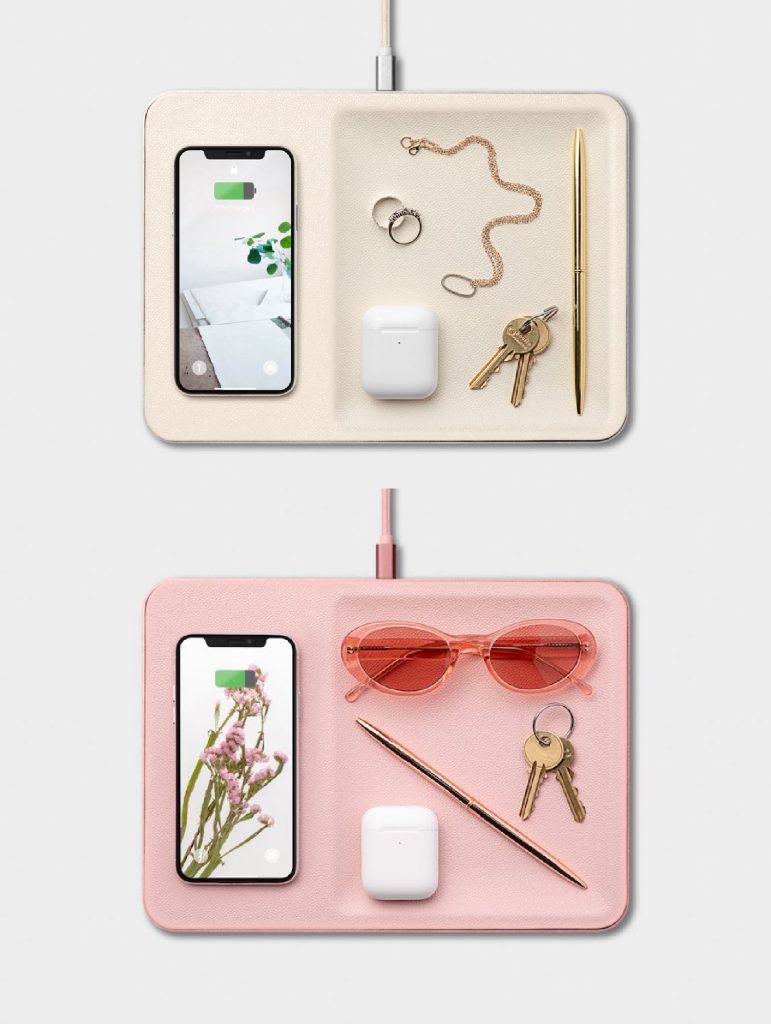 Earlier this year I dropped a big hint that I'd love one of these Catch 3 wireless charging stations for my home office desk in my post on Mother's Day gifts for moms working from home. It's sleek and attractive while still being so functional, and if I can have something that eliminates the possibility of a dead phone or the need for me to ask, "Where are my keys?" over and over again, I'm in.
My perspective on germs has changed dramatically this past year, so I'm loving this OttLife Purify desk lamp. The company sent me a sample to try out, and I'm loving the fact that this bright LED light reduces eye strain by mimicking sunlight, also disinfects everything the light touches, and charges my phone at the same time.
Related: 7 cord management solutions to get your home office organized
If you aren't quite ready to invest in a standing desk but want to try it out to see if you like the health benefits of standing to work, then this ObVus Solutions laptop tower stand is a great entry point. You can use it to stand, to bring your laptop to eye level while sitting, or even to prop your iPad while you cook from an online recipe. The fact that this collapses flat makes it so convenient to transport and use anywhere. It takes your office to the next level, literally.
This is so basic, but having an affordable USB tower on my desk will save me from climbing under furniture to find an outlet near the desk in my bedroom…and that's a big deal to me. I don't need 200 USB ports; this small, chic gold tower will allow me to charge my phone, computer, and iPad at my desk easily without crawling around on the floor.
Related: How to install USB outlets in your house
I've probably readjusted my position while writing this post about five times, from feet on the floor, to legs crossed, to knees-to-chest, and back again. Since I'm clearly big on changing positions, I'm fascinated by the Be You chair, which allows you to sit in countless ways. The backrest transforms to a seat or a table. The sides fold down so you can lounge and relax…or even do yoga positions. If you're a fidgeter like me, you might want to get in on these pre-order savings now.
Good Housekeeping ranked this Vitruvi stone diffuser the best overall diffuser for 2021, in part thanks to the subtle scent that isn't too overpowering. Which is exactly what I would want for my desk. It's beautiful and looks expensive, but there's a 15% off coupon on Amazon right now so grab it while you can.