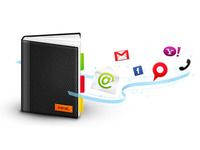 I store contact information in a lot of different places like my phone, my computer, in Outlook and in my trusty leather-bound address book. It's always an inconvenience when I look up someone's name, only to find I have two different addresses for them in two different places.


With a new online address management system called conXt, I made be able to solve this problem.
ConXt
makes it easy to organize contact information in one place on the web.
You start by signing up for a free account and then can import contact
information directly from Outlook, Yahoo, Hotmail, Gmail and Facebook,
or request that conXt send emails directly to people you want
information from.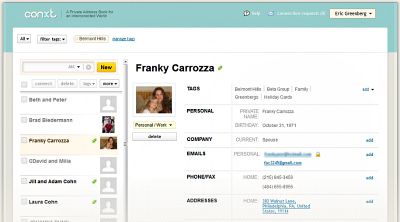 Once
you have people's information saved, you can categorize, tag, mark
birthdays, and do whatever you need to do to stay organized. ConXt also
will send out physical mail on your behalf and print the addresses for
you. Nice to keep in mind for the holiday card process that is
frighteningly right around the corner.
Right now, there is no mobile app, but I am told it is in
the works, which will be a very welcome addition to an even more
organized contacts list. Anything that will eradicate the need for
keeping addresses in four different locales is worth a try. -Jeana