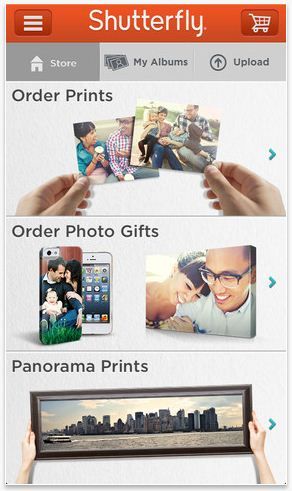 Q: With all your evaluations and explorations, have you found a great place for on-line storage of cell phone pictures? A place where you can upload and then invite friends and family to view? – Gloria

Hi
Gloria, great question! I have often asked myself the same thing when
it comes to storing, sharing (and even printing) the 2,000+ photos I
have on my iPhone. While there are so many cloud storage options that
we've covered on the site – everything from
Dropbox
to
Google Drive
to
SugarSync
– I always come back to my tried and true
Shutterfly app
for everything related to my cherished photos.
The
three cloud services mentioned do a great job of storing, especially if you have thouands of photos, but they're not as
user-friendly when it comes to sharing, especially with family members who aren't as tech savvy. Printing is not an option at all.
Shutterfly really does it all, enabling you to store unlimited photos
to your account, share albums, order very good quality prints (and essentially any item
you'd want to have a photo printed onto), all directly from the app. Any
and all activity that occurs on the app is reflected on your online
Shutterfly
account as well.
What's even better is that the Shutterfly app for iPhone just released a major
2.0 update, which offers a complete overhaul in look, feel and
usability. Any time you log into the app and click on "Upload," the app
recognizes which pictures are new and within a few taps, they're being
securely saved to your account. That just makes it so much easier than
other services where you have to access your camera roll and literally
tap which pictures you want to save – definitely not a time saver if you
have hundreds to pick from. However if you're an Android or Windows user, stick with the website for now; hopefully an app is coming out for you soon, too.

I
absolutely cherish all the photos I have on my phone and am really
thankful to have a service like Shutterfly to keep them safe and secure.
-Jeana

The Shutterfly app is available for free on iTunes.