We're gearing up for our annual family vacation, and instead of loading down our bag with bunch of books for the plane ride and bedtime, I've been loading them up electronically on my iPad. But with so many different options out there, I decided to give the three most popular book applications for iPad a whirl and let you know what I thought.
iBooks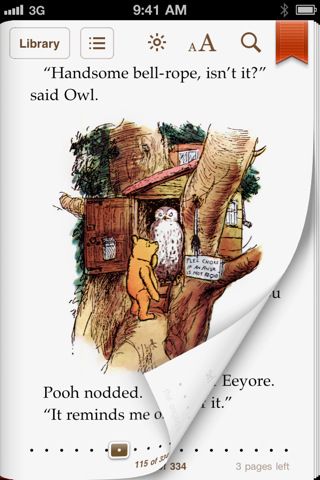 The iBooks app is Apple's reader which comes already installed on the iPad, and is available on the iPhone and other Apple products as well, so you can read your books across platforms. While you'll find a plethora of kids titles that are easily accessed when you open the app, the search feature is pretty frustrating and the pricing isn't great.
I purchased a book for my daughter on iBooks for $6.99 and later found the same one for 20% less in Amazon's Kindle bookstore. Darn! It is pretty convenient to be able to toggle back and forth from the store to the app, though, and you'll find a decent selection of kids titles.
Kindle app for iPad
iPad owners can download the free Kindle iPad app and then search the Amazon Kindle bookstore for a huge range of titles. I like how they've got the free and paid books separated in two columns, so you can peruse both easily.
Like iBooks, you can stop reading on your iPad and then pick up the book in the same spot on your actual Kindle or iPhone Kindle app (left), which isn't such a big deal with kids picture books, but more important when you've got a kid reading chapter books. It does seem as though you have to exit the store and go back into the Kindle, which is a bit of a pain; there's no way to get back to your application from the ebook store. However, the dreamy searching and great prices at the Amazon Kindle store makes up for any small inconvenience.
NOOK for Kids iPad app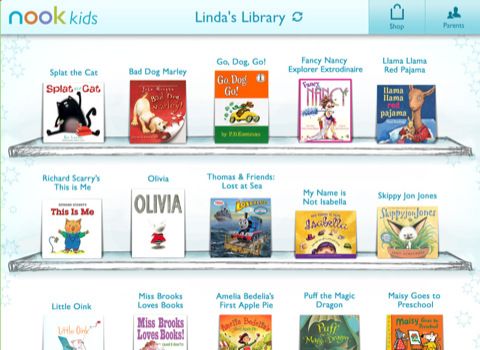 If you're looking for interactive kids books, then you'll want to get the NOOK Kids app for iPad (right), which gives you access to more than 240 titles as of now, as well as a parents library which can help you control what books your kids are reading. You do have to enter your credit card which is kept on file with Barnes & Noble, though I wasn't actually able to figure out where to do that.
Keep in mind, interactive books are pricey–anywhere from $9.99 to $12.99–because they include read out loud and offer other cool in-app features. While you might also want to peruse the new Apple App store as well the difference is that the NOOK kids books are comprised of mainstream titles, which is helpful for those of us with kids obsessed with Olivia or Curious George.
Whichever app you choose, it sure is amazing to have a selection of books on hand at all times without having to lug the actual books with you. And while we still use the real thing at home for bedtime, it's so nice to be able to have a whole other library right at our fingertips. –Kristen