Although I am enjoying my iPad I miss some of the things my laptop offered, like excel for budgeting.  Do you have any budgeting app suggestions? – Steff
What? You mean iPads aren't just for games? I seem to forget that since my kids can't stop fighting over ours, but it's such a great tool for keeping track of the family budget. Here are a few apps that look like they be just what you're in search of, Steff.
For a pretty low risk investment at just $1.99, you can try Checkbook HD (above), which does what it says–allows you to track your expenses like a virtual ledger. You enter you account balances and then track your purchases and withdrawals, plus you can set a pin so no one else has access.
Both Home Budget with Sync and Budget Touch ($4.99), look similar, but are a bit more involved than Checkbook and therefore provide you with more extensive features. Home Budget allows you to sync up multiple devices, so other users can use the app as well. Always nice when your spouse happens to make a big purchase and forgets to tell you (or maybe that's just mine).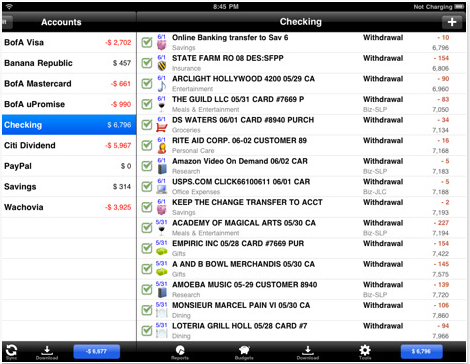 Splash Data ($4.99) actually allows you to connect to your bank account so you can securely download transactions directly to your iPad. If you want more than transaction records, you can also purchase the desktop software, which is actually required for the wireless sync.
Find a slew of all sorts of cool iPad apps in our archives!