With Halloween just around the corner (how did that happen?!), we've been on the lookout for a few cool apps that will keep our kids entertained while we're busy gluing sequins on mermaid costumes and eyebrows on Angry Birds. Let me just say–there are a lot of totally lame Halloween apps out there.
Here, three Halloween-themed apps that our kids can't seem to put down. And we approve too.
Sometimes monsters get a bad rap–all those warts, fangs and drool. But with this ebook, The Greebley Greebley, your kids can design their own monster main character, so ugly that you have to admit, he's actually kind of cute. With a tap of their finger, kids can create a new monster every time they read the story, and with all those options, that's more than 10,000 possible monsters to make! No ghoulishness here–the book slips in a heartwarming lesson about appreciating people, even monsters, warts and all.
The cool Monsterpieces app features the amazing art of world famous monster artist Eric Pigors and allows your kiddos to
create their own monsters, from misshapen head to bloody eyeballs, even hats and scars galore, all of which they can name and then save in their photo gallery. The lively music (think a twist on an instrumental monster mash) is easily turned off. And yes, while this app might be a little gross and perhaps gory for the wee ones, all my kids, even my 3 year-old, have enjoyed making and trying to scare me with their ghoulish monster creations. (On sale for $.99)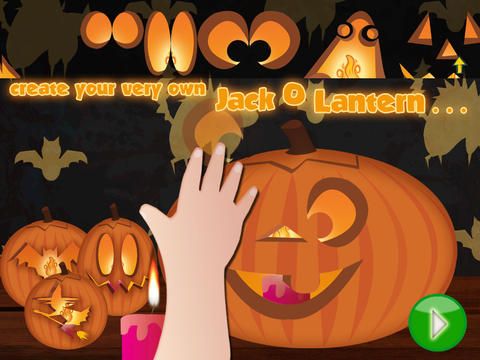 Clicky Sticky's Halloween Sticker Book includes colorful, easy-to-use sticker scenes that will keep little fingers busy and not in your trick-or-treat stash. Drag stickers to make a jack-o-lantern, play costume dress-up, and make a not-too-spooky scene. Even non-readers can play independently, giving you a minute alone to sneak in something from the trick-or-treat stash.
All three apps are available in the iTunes app store.