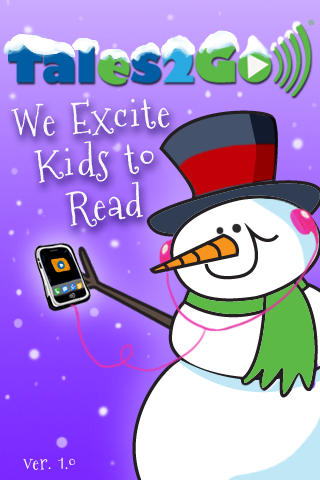 I tend to get a little romantic around the holidays. Not in the candlelight dinner with my husband kind of way, but more in the drink hot chocolate, nibble on cookies, music playing softly in the background while my pajama-clad children (who never fight over who gets to put on the angel), hang ornaments on our sparkly Christmas tree, kind of way.
Whether you're making memories around the fire, road-tripping to Grandma's house, or simply need a few hours of peace and quiet to finish wrapping all those gifts, the latest audiobooks from CMT favorite,
Tales2Go
, are just the thing to have at your fingertips.
Their newest app release
Tales2Go-Happy Holidays!
includes a
bundle of 20 holiday audiobooks with titles like
A Christmas Carol,
The Best Christmas Pageant Ever, The Story of Hanukkah,
and
The
Tomten
. Not only are audiobooks a great way to encourage reading and
listening skills, but if I'm going to let my kids plug-in, this is one
of my favorite guilt-free ways to do it.
For
only $.99, you'll get more than 30 hours of listening–that equals a
lot of relaxing around the fire with my kiddos enjoying stories.
Something I could take a little more of right now.-Molly