If you're like us, one of your new year's resolutions has a little something to do with getting organized when it comes to family management.
You've already told us a ton of amazing ways you put your Google calendars to work for you and your family. And as much as I love my color-coded and oftentimes overwhelming Google calendar, sometimes I wish it was a little more family-centric, and I'll be honest–a little more fun to look at day in and day out.
To me, a new year means an excuse (to drink champagne) to buy myself a new
moleskine
, but most most importantly, give my family's calendar an overhaul.
So we've scouted out 4 great sites (and their mobile apps) to get your family off to an organized start in 2012. To call them "family calendars" would be an understatement. Think of them more like home and family management tools you may never want to live without.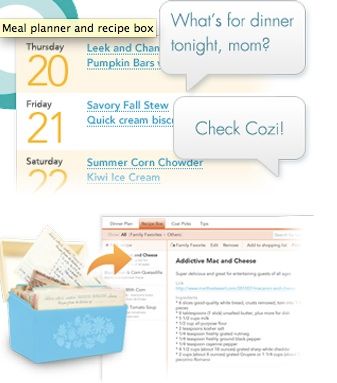 Cozi
Our readers are no strangers to this mom-favorite
family
management site
. By creating a free family account, mom favorite
Cozi let's you keep track of things like your family calendar, to-do
lists, grocery lists, menus and family photos. And all these pieces of
information can be easily shared between family members. With apps for
both
iPhone
and
Android
,
you can have access to your lists and appointments at all times.
MoreDays
While this site is a relatively new launch, it looks like it has tons of
potential. It is a hub for calendars, contacts, notes and appointments
and even syncs with your already existing Google accounts. With more
functionality coming in the near future including iPad and iPhone apps,
coupled with a very friendly, appealing design, it's definitely one
worth a bookmark.
AboutOne
AboutOne can handle everything from archiving your child's artwork to
helping you organize your next home renovation project. It is a
self-proclaimed family management system that could potential allow you to do away with your planner, binders and ugly metal file cabinet full of
family records. Not only is it a hub for almost every bit of family
information, it also makes printable hardcopies of special notes and
instructions for anyone from relatives or doctors, to your kids'
babysitter.
This site is the antithesis of the ones I've mentioned above,
but I felt it definitely deserved a mention in this list. The concept
behind 280Daily is to "archive your life". Each day you are given a
blank slate with 280 characters to mark the day. (Twitter X 2?) Whether
you use it to mark a special occasion like baby milestone's, your daily
food journal or reverse to-do list (
Things that got accomplished!
Yay!
), we appreciate its scaled-down approach to managing life.
Think of it as a micro-journal in a world of information overload.
For a busy mama balancing everything, this may be just the quick and
painless brain dump you really need. -Molly