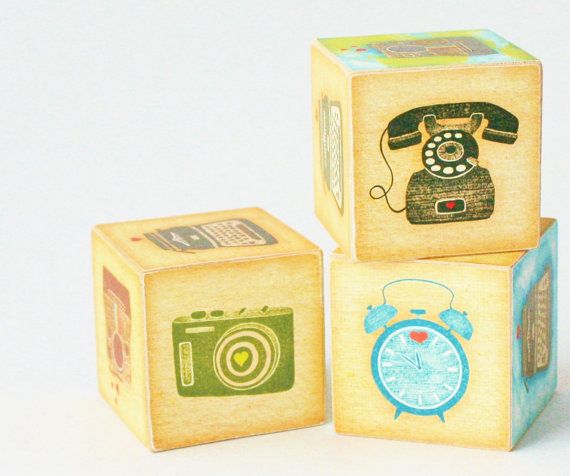 Remember when Marty McFly had to go back to the past to save the future?
These blocks don't have the powers of a time traveling Delorean, but they can give you a sweet reminder of a simpler time when phones only had one ring and alarm clocks were really, really annoying.
Plus, they're really, really pretty.

The Vintage Love blocks are probably a little more for you than for baby, with each one of the three blocks beautifully decorated with sewing machines, typewriters, old school cameras, and alarm clocks. Ah, those were the days. All materials used are eco-friendly and non-toxic, and the blocks have been finished with a water-based sealant to retain their hand-sanded charm.
They're gorgeously hip for a nursery, but since they're not recommended for baby teething, you've got a great excuse to keep them for your craft room or kitchen window. At least until your kid can accurately tell an Underwood from a Polaroid.~Delilah