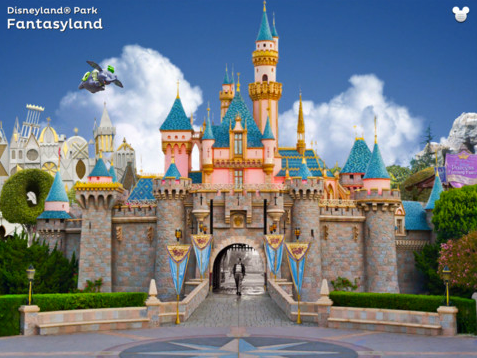 Having just returned from Disneyland after running in the Tinker Bell Half Marathon, I was anxious to show my kids where I had been. And what perfect timing, that Disneyland launched an amazing new app that made my kids feel like they were at the park with me.

The Disneyland Explorer app for iPad
is really quite the sight to behold, greeting you with Sleeping Beauty's castle
and Walt Disney himself, and then taking you through the park — from the hotels to Downtown Disney, and both Disneyland
Resort and California Adventure — all with the swipe of your finger.
You and your kids will be mesmerized by the graphics like we were. You
can even tap some of them and get a snippet of information, while others come to life
with movement, or offer up a few games and activities. Just make sure to
take your time! Because the graphics are super realistic 360 panoramas, I
actually found myself getting a little dizzy when we moved around too quickly.
While this isn't a planning app or something that you would use while
you're at the park, it's the perfect way to get your kids excited about an
upcoming trip–or to help hold them off until you're ready to book the real
thing. -Kristen
Download the free Disneyland Explorer app for iPad at iTunes.com