Who invented the alphabet? is my son's latest impossible-to-answer question. I've tried to placate him with some smart talk, but the creators of the much loved ebook The Fantastic Flying Books of Morris Lessmore have come up with a much more inventive and fun way of telling the story. And if your kids are like mine, this is one tall tale they'll be happy to hear again and again.

Once upon a time there was no alphabet. . .only numbers begins Numberlys, an engaging app that is part ebook and part film, with a look that reminds me of Fritz Lang's Metropolis sprinkled with Apple's 1984 commercial. Though instead of being dark and depressing, the cheerful German-accented narrator and wide-eyed, goofy-looking figures make this one story that even the youngest will love.
Without the alphabet, the little cartoon people are quite literally numbers working on an assembly line producing, you guessed it, more numbers. But five little friends are tired of making the same numbers over and over again and hatch a plan to come up with something different.
While I know my kids would've been content to sit back and watch this story play out before their eyes, they are especially delighted with all the interactive elements that have them helping the little critters create each letter. Non-readers may need help with the interactive game instructions and even I had a hard time "creating" a few letters, though it's easy enough to leave the game and move on with the story.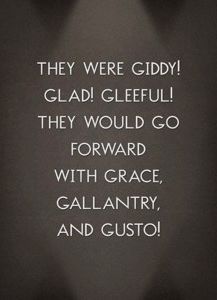 And though this may seem like a "bash the boring numbers" tale, my little math lover doesn't see it that way at all. Though my eleven year old mathphobe believes it supports her stance that numbers aren't fun at all.
Much more than a "learn the alphabet" app, there is a lot of humor that has me sitting on the couch with the kids while they go through the many screens. I love the alliteration used throughout which shows kids how each letter sounds in a sentence. And though I think the soundtrack, sound effects and narrator's voice add so much to the story, it's also very easy to shut off one or all of these things if you'd rather your kids read the story to themselves, or if you just need quiet.
At almost $6, this is among the most expensive apps I have loaded onto my iPad and iPhone. But considering the extensive content, the gorgeous graphics, and the totally engaging story line, I'd happily pay this again over having to sit through a single viewing of
Chipwrecked
.
Even if it included popcorn. –Christina