For years I've been a huge fan of Target. I know I'm not alone in saying I walk in needing two things and walk out with a whole shopping cart full of…you know. More things. So what's super thrilling is that through the holiday season, I'm personally partnering with them as their spokesperson for their amazing tech and gaming department–a place I'm all too familiar with. Especially this time of year.
Which is why it's been so fun making recommendations just for you all.
If you happen to be browsing the aisles at Tarzhay, virtual or in person, here are my top ten picks for tech holiday gifts at Target. (Walk in for a pair of leggings, walk out with a Wii U, some headphones and a new camera. See how that works?)  –Liz
1. iPad Mini and iPad Mini Quilted Case by Belkin
Arguably one of the hottest gifts this holiday, I'm ridiculously excited that I can get my hands on the Mini while I'm at Target anyway. Although the 16GB is available, I'm thinking that my next iPad purchase will be a 64GB, since realizing how many more movies and games I'd like to be able to keep on there for the kids at one time.
While there are lots of cases to choose from at Target, I've always found Belkin cases smartly designed and reliable, and this iPad Mini case in black or tan is pretty swanky. Wouldn't it be fun to give someone just the case all wrapped up…then watch their face as they realize what gift is coming next?
2. Nintendo Wii U
Another huge, hot gift this year is the Wii U gaming console. If you haven't checked it out yet…so fun! The GamePad controller can be the game display itself (good if you have to turn off the kids' game because uh, Downton Abbey is back and you need the TV) and you can also use it to connect with family through Miverse, and soon, stream movies with the device.
Plus I love that it works with almost all existing Wii games because I haaaaate as a parent having to start buying everything all over with every new piece of tech.
3. Sony Children's Headphones
My kids aren't always comfortable with earbuds, so I love this option from Sony in pink or back. They're made for little heads (about 8+) and the foam padding redirects sound directly away from the ear. Plus there's volume limiting which is pretty much essential.
Toss in an iTunes gift card with it and you've got a great little gift for a tween or teen, for not a lot whole lot of money.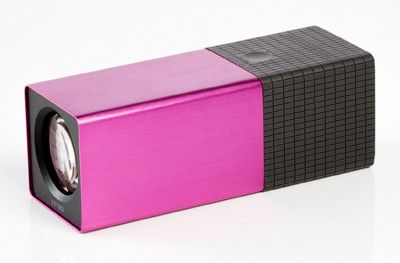 4. The Lytro Light Field Camera
When we first got wind of the Lytro earlier this year, our entire staff went whoa. It's the first camera that, instead of just grabbing an image collects all the light from every direction so that after you snap, you can check the LCD screen and decide what you want the focus to be–whether it's your kiddo in the foreground or some gorgeous scenery way in the back. In other words, you shoot first and focus later. Is that perfect for parents and their wiggly children or what?
5. Just Dance 4
I have the embarrassing YouTube videos to prove how much I love these dance games (please don't search!) and you can grab your own for any system, from Xbox Kinect, to PS Move or Wii. If you want a little less bumping and grinding for younger kids, you ca grab Just Dance Kids and get Mmmbop stuck in your head for one more decade. I just love games for the holidays that the whole family can enjoy together…and no guns. What can I say, I'm a mom. Guilty of pacifism as charged.
6. Pentax Optio Digital Waterproof Camera
I am obsessed with waterproof cameras, ever since mine got sloshed in the bottom of a stroller at a beach and…dead. Besides, it's totally fun that you can use it up to 40-feet deep. If you're a skier, swimmer, or just like Pina Coladas and getting caught in the rain, you'll have a great time with this. And it's shockproof and crushproof, it's perfect for parents with grabby babies around the house who are worried about their technology.
7. Skullcandy iPod Cases
Tweens and teens (and some of their cooler parents) love these rockin' cases from Skullcandy which protect your precious music and games. I love that new one that looks like a tape cassette. Sigh, remember those?
8. Sonos PLAY:3 Wireless Sound System 
I am the biggest Sonos fan and have been for ages. Once you've fallen in love with the idea that pretty much all the music on the planet can be wirelessly streamed into your home or office from the PLAY:3 with amazing sound, it's hard to go back to anything else. Set-up is crazy easy, and if you want to add to link additional speakers in other rooms you can. Plus you can control it all with their free iOS and Android apps, keeping it out of reach of prying little fingers, should you need. Psst…grab the Sonos Bridge too, if you're sticking with just one system.
9. Sony DSC Camera Bundle
I've always liked Sony's point-and-shoots which are so intuitive, you can pretty much charge it and start snapping. This one is compact and convenient, and as a bonus it comes in a cute little carrying pouch. The case happens to be designed by Taylor Swift with an (unobtrusive) little tag on the side with her name, making it a great gift for tween and teen shutterbugs ready for an affordable but powerful first camera. (Seriously, the online price is great and it comes with a $10 gift card too.)
10. A Target Gift Card
Of all the gift cards, I admit tend to be pretty psyched when I get one from Target. (Hint to relatives.) But I especially love that you can give and receive them right from your mobile phone. Perfect for Christmas day or the first night of Hanukkah when you realize, shoot, you totally forgot someone and need to get a gift out in 30 seconds. Not that I'd ever do that.
If you're looking to save some cash, keep in mind the Target trade-in program which lets you upgrade your old phones, cameras and outgrown games, for a gift card you can apply to something new on your list. Happy shopping mamas!