Go on and hate me: I received a new
iPad Mini
for Christmas. But it looks so naked and fragile, just sitting there. So I've been scouring Etsy for the perfect handmade case, and whether you like feminine and pretty or sleek and solid, turns out there are already so many amazing options, that it was hard to narrow it down to just 10 great-looking ones.
We love
nimoo's Kindle cases
, and now we love their
cases for iPad Mini
.
Handmade of cotton and linen with polyester batting for cushioning, that little wooden button is the perfect final touch. Each case is handmade in Spain, but they
still ring in at under $30, including shipping.
It's
amazing how bright colored cases can just make you happy every time you
pull them out. Plus, easy to find in that big, dark, cluttered bag of
yours. (Just us?) These soft felt iPad envelopes from La Vie Vert stay closed with a simple elastic band. Love how thin the profile is.
This
iPad Mini cover from Picasso Lab
is made of thick, premium Napa leather, inside and out, to snuggle your new pretty with luxury. It comes in several different leather and stitching combinations and includes custom laser engraving. There's even a video showing the creation process, so you can see how four feet of leather turns into one seriously lovely gadget case.
Gala Born is the home to so many cool, hand-embroidered iPad cases featuring motifs like mustaches, butterflies, military stars and even a gorgeous one made with crocheted lace. But I like the custom monogram iPad Mini Cases with your choice of letter and colors.
The wool felt iPad Mini case from tophome is so beautifully sleek and unisex feeling, and while there are quite a few on Etsy in similar styles, the price is terrific: just $19.
We found eKover while on on the hunt for Kindle Fire cases,
and it turns out they're happy to customize your cover for any
e-reader, including an iPad Mini. With dozens of handmade covers in a
rainbow of uber-stylish fabrics including a "Build Your Own" option, it's a great little cover for under $30.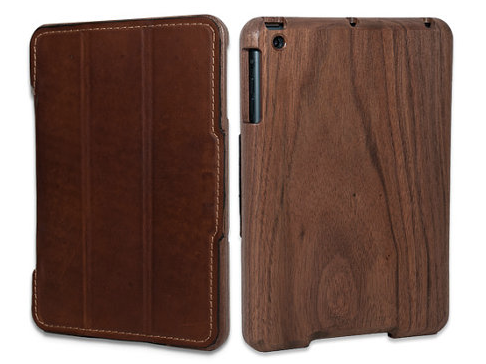 Yep, that's wood. This all-natural wooden iPad Mini case from TreeShell
is handmade of a solid piece of walnut lined with leather. Each case
includes a folding leather stand and has a unique, oil-rubbed finish
that will feel amazing in your hands.
Chic is good, but cute can be good, too! This adorable
owl tablet sleeve from rabbitdream
is made of faux leather and includes a velcro closure. It does come from Thailand, but the shipping is only $5, and they have 100% positive feedback. Talk about the perfect gift for a teen or tween niece! Or you. We would totally use it.
Looking for something a little more ladylike? I love this elegant
chevron gadget clutch from ModDotTextiles
, with those Mad Men-era snaps and stylish chevrons. Toss in your phone and a lip balm, and no one will ever know you're really hauling tech.
The handmade details on this lovely Sessa Carlo Canvas iPad Mini Case
are kind of amazing. The one-of-a-kind design is hand-dyed ombre, the
olive canvas on the bottom is made from Italian infantry gunnysacks, and
the leather strap and chrome buckle perfectly accent the watercolor
effect. Each case is unique and lined in soft wool.
Now, I just have to choose one…
–Delilah