We're not newbies when it comes to online gift wish lists and registries, but now there's a new one that just may be smarter than all the rest.
I have the same problem every year at Christmas with gift-giving: My kids see something they want, I absent-mindedly tell both grandparents, then Christmas morning comes, and I'm getting hurt looks from one grandmother as she sees my kid open the exact same gift she got him. Ugh. So this year I'm going digital with Checked Twice.
This site has some really nice features I love. First, it eliminates the problem of repeat gifts by letting family members "claim" your wishes but it also knows how to keep a secret–if you create your own list for yourself, you can't see what's been claimed. Surprise!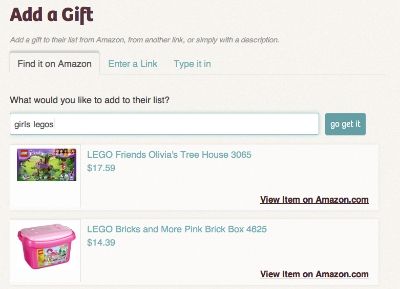 What's especially brilliant is that if you've already gotten that fabulous new Sony Smart Lens that Dad really wants, but you know he'd also love for someone else to get him the new Playstation 4 (for the kids, of course), you can add that to his list and he won't know.
It functions a lot like Pinterest. You can add items by pasting a link to anything you see online–or say on Cool Mom Tech?–search for a gift directly through Amazon, or you can just write in the name of the item if it can't be found online (should such a thing exist).
The automatic image upload is great so that generous friends and family can actually visualize that specific set of headphones you want in the very color you want them. However it does need a little work; some of the photos are pixelated, and I couldn't get Checked Twice to pull the photos of products directly from Etsy which is a huge bummer.
If you're the the holiday gift-list maker of the family and want to remember things as you see them, add the "want it!" browser bookmarklet to your bookmarks bar. This could be the year that Grandma asks what the kids want and you are actually ready with answers. –Kate
Create a free account on the Checked Twice online gift wishlist registry.