Shakespeare's plays are some of the most difficult pieces of literature your kids will study in school. English has changed significantly over the last 400 years, so try being 10 and having to know what the Bard meant by phrases like "Fie, my lord, fie, a soldier, and afeared?"
Well, "as good luck will have it" (as Shakespeare also wrote) my kids now have access to an amazing new educational resource called Wordplay Shakespeare. This engaging ebook series for iOS, featuring clear translations of Shakespeare line by line, could save their grades in English class, and it will most certainly save my sanity as they turn to me for help. At this point, Macbeth and A Midsummer Night's Dream are available, and rumor has it they're working on Romeo & Juliet and Hamlet for release soon.
In each innovative ebook, your kids can read the full text of the 1623 Folio of Shakespeare's plays (each one purchased separately), so it's no Cliff Notes shortcut. You're able to click on "Tap to Translate," and a new page pops up with the text in modern English, in case you need a little more help making sense of what you're seeing.
What's more, on the very same screen you can watch some of New York City's finest professional Shakespearean actors perform the scene to bring it to life. This is a totally immersive, interactive learning experience, allowing kids to read, watch, pause, replay, and read again. Brilliant.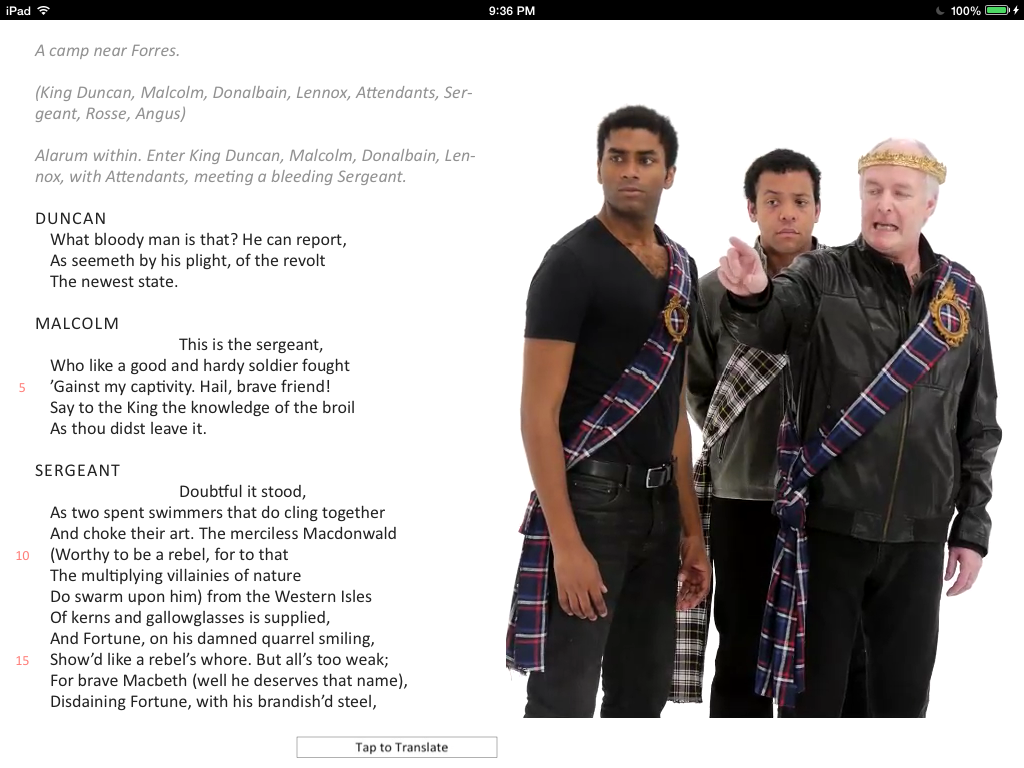 For visual learners, this is an amazing resource. The acting is very good quality, the text is clear and easy to read, and the modern translation is an invaluable tool for really helping kids make sense of the language.
I hesitate to say these are great ebooks for kids, because adults who are Shakespeare fans will love them too. But it will certainly be a huge help when you're pushing midnight, trying to help your kid make sense of what Oberon meant by imperial votaress.
Yeah, this is gonna be a huge help.
Download the Wordplay Shakespeare Macbeth ebook or A Midsummer Night's Dream ebook for iOS for $9.99.