As someone who uses all Apple gadgets, including an iPhone, iPad, and my precious MacBook Air, I've had my eye on the news about the Apple security hole that was discovered on Friday. But now it seems to be affecting more applications than originally stated, so I'm making sure to be extra careful.
Here's what you need to know about the Apple security breach and what you can do to protect your privacy.
Here's what happened: Apple discovered a security flaw that would allow hackers to get access to emails and and other previously secure information from iPhones and iPads on insecure WiFi connections. Later that day, they found the same security problem was affecting the Safari browser on Mac computers as well. That's a whole lot of gadgets, or all of them if your family is like mine.
Now initially, the fix was to upgrade to the newest software on your iOS device. However, after much research, it appears that the bug, which security experts are calling "goto fail," is affecting many more applications than originally thought, and a simple upgrade is not enough.
If you're an iOS and/or Mac user, your best and safest bet right now, in addition to updating to the latest software, is to be sure that you are using a secure WiFi connection at all times. (That means stay off of public WiFi in airports, coffee shops, universities.) Also, we recommend using a different browser, like Chrome or Firefox if you're ordinarily a Safari user on either your Mac or Apple mobile device. I have been using the Chrome app for awhile now and really like it.
Of course, a secure WiFi connection is something we here at Cool Mom Tech always recommend, especially if you're checking your email or doing anything that requires any sort of login or password protection, like online banking or shopping.  But given the uncertainty of this current breach, it is extremely important that you be extra careful.
Photo via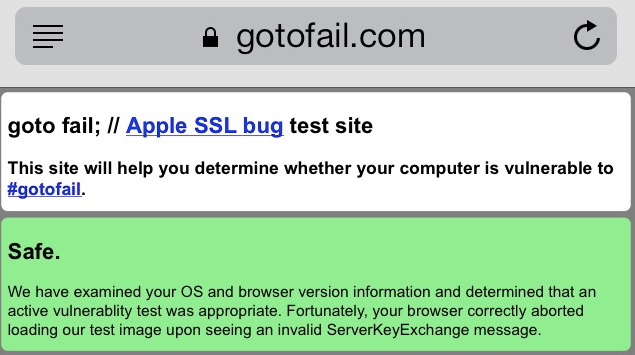 UPDATE 2.25.14 The Goto Fail is now fixed in iOS 7 so be sure to upgrade if you're still on iOS6 on your mobile device. A fix for Macs running iOS X is still being worked on. To see if your device is vulnerable, log onto the gotofail.com security website using Safari and run the test. 
Update 2: Molly Wood at the NYT  reports that OS X Mavericks Version 10.9.2 is now available. It's recommended you update ASAP.