Just when I thought I had seen all the selfie apps and selfie gadgets out there, I stumble upon selfie360, an easy to use app that lets you take animated selfies or panoramas.
The free iOS and Android app is ridiculously easy to use and pretty fun to play around with. Once you open the app, it turns the camera on you with a little circle showing where to keep your head, and then tells you to turn around in a circle. When it's done, you have a great 360 degree view of your surroundings (Matrix!) with an animated selfie in the center of it all. What a cool way to share travel experiences from your own perspective.
Here's another fun use: Want a front to back animated shot of your hair and makeup before an event? You can also easily to do panoramas or 180's in the same way — just moving your arm, rather than your entire body.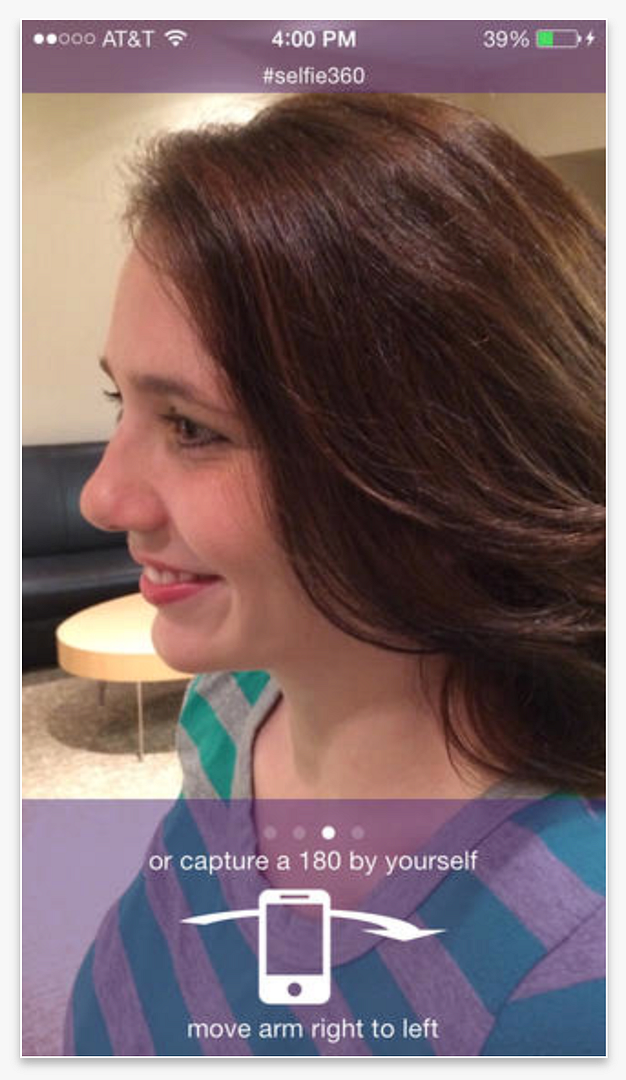 I really like how you can take a full 360 of a stationary object or people. Just set the app to "Full" mode, center your camera on that object or person and then walk around it/them in a circle. You will end up with a lovely 360 animation of your child on the floor playing blocks–or that crazy person on the dance floor at your cousin's wedding. Ha. Then of course you can share them in all the ways that one can share such things these days.
Keep in mind that it's a very new app, so that means constant updates and a few complaints of glitches, though I'm pleased to report I had a very smooth experience with it. The developers are also working on more ways to capture selfie imagery, as well as the ability to follow specific selfie360 users like you do with Instagram. But for now, it's just another fun way to take a selfie.
selfie360 is free and available to download at the iTunes store or at Google Play. Looking for tips for taking the best selfie with your kids? Check our archives.