Someone once said: The organized life is the best life. Actually, maybe it was one of those dubious, curly-font quotes posted on Pinterest that make you feel totally guilty about your life. But still, there's still some truth in there, right? Just look at this gorgeous handmade wooden iPhone Docking Station from Tinsel & Timber and tell me it doesn't look better than my current alternative: my precious iPhone tossed face down on some side table streaked with apple juice. Exactly.
Made right here in the U.S.A, this gorgeous piece is handcrafted from sustainably-sourced American walnut, and is designed specifically for iPhones (sorry Android users), with a Merino wool liner to keep your precious scrape-free. Plus there's that handly little mini valet for change, keys, and anything else that you tend to leave on the counter, table, or any other flat surface if you're my husband.
In fact, what an awesome Father's Day gift this would make for the stylish digital maven on the go.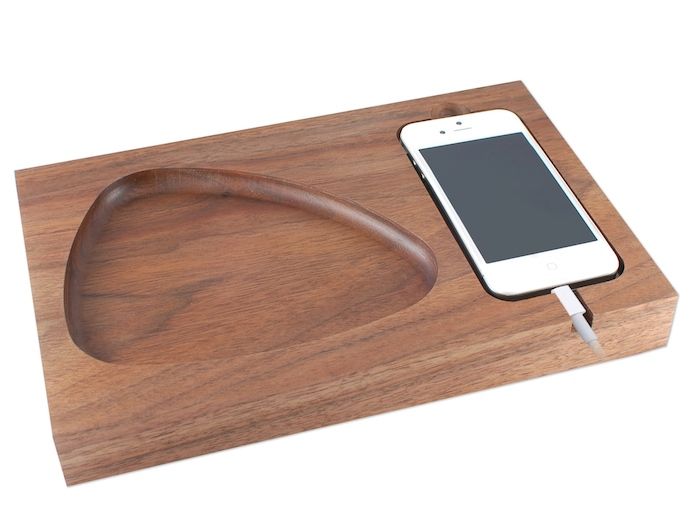 It's definitely a swanky addition to any desk or counter, though that valet is definitely on the shallow side, so some spare change, or a key and an SD card, or maybe a couple of receipts from the day is about all that you'd want to dump in there. Or if you're really getting organized, don't dump anything at all. Find a permanent home for those receipts. Too much to ask?
The Tinsel & Timber iPhone Docking Station is available for $79