We've covered the Snapchat app extensively since its launch, and it's grown to be extremely popular with tweens and teens, and now even brands are jumping into the app, finding new ways to promote to users there. Now that Snapchat has announced new features including Snapchat text messaging and video calls, we're taking another look at how kids are using it so that parents can stay informed about what's on their kids' phones and devices.
Snapchat Chat (a little redundant, right?) allows users to text message each other, but the conversation "disappears" when you leave Chat. It's similar to Google Chat when you opt to chat off the record — the conversation isn't saved, but you can still take a screenshot of it. And as we've learned over and over this past year, nothing ever actually disappears.
Speaking of screenshots, we've heard from teens that the Snapchat screenshot alert can be a bit wonky. When Snapchat alerts you that a friend has taken a screenshot of your photo or text, sometimes they actually haven't. Naturally this has potential to cause misunderstandings, so we think it's one more reason kids should be mindful about what they put out there, whether it's a photo, text, or video.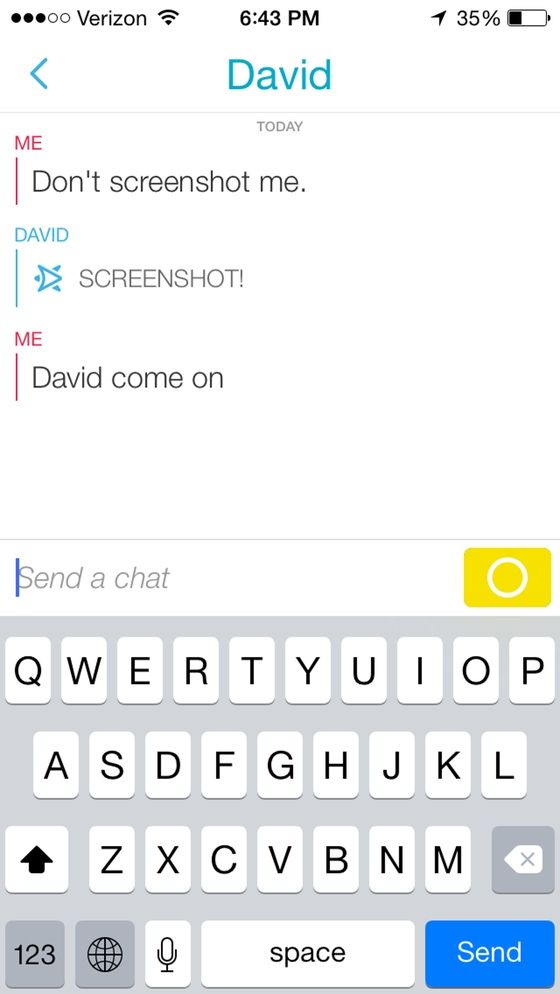 Plus the FTC made it our own privacy concerns official: Snapchat has settled FTC charges that it misrepresented privacy and security of user information, adding changes to its privacy terms on site and implementing of a privacy monitoring program. That means Snapchat acknowledges that photos are in fact stored (though presumably no longer accessible to sender or recipient) and data is collected about users.
Reading those privacy terms is tedious, but it could be a valuable exercise for kids to learn how much information they share just by using an app — and it could inspire them to be more judicious in their app choices.
And if your kid is on Snapchat, you should be reading them for sure.
The good news for parents about Snapchat is that the majority of teens use it simply as a means of communication, not necessarily for sharing racy pics. In fact, the newly disappearing texts appeal to teens' desire for privacy. While other social networks like Facebook, Twitter, and Instagram preserve a record, Snapchat lets kids be silly and spontaneous without it coming back to haunt them (in most cases, if not all).
Of course, we as parents need to help our kids remember not to go too far in any situation, not just on social media, and that it's important to take responsibility for their words and actions, even when they seem to disappear from the ether.
Snapchat Chat may prompt more kids to download and use the app, especially tweens who are already texting via iMessage and WhatsApp. While we don't think Snapchat is as risky an app as other apps we've warned readers about, we would advise parents to be aware of whether their kids are using it (especially since it's free and rated 12+) and talk with them about internet safety. That's a conversation worth having more than once.
Find Snapchat on the App Store and Google Play