I have mentioned my penchant for frugality and the rush I get when I snag a good deal. (Yes, I said rush). Which is why a neat money-saving shopping app called Flipp will most definitely be on my phone come back-to-school shopping season, which scarily enough, is just around the corner for me.
There's something about seeing You Saved: $16  on the bottom of a receipt that just makes me happy, and if you're like me, I think you'll find the Flipp app for iOS and Android to be a handy free resource. The premise is simple: It digitally consolidates all the flyers and circulars for stores in your area, whether it's grocery, sporting goods, pet stores or clothing. I found a lot of great deals in there that I wouldn't otherwise know about, from shops like Target, CVS, Costco, Dick's Sporting Goods and Macy's.  And you don't have to do anything to get the deals. Just…shop.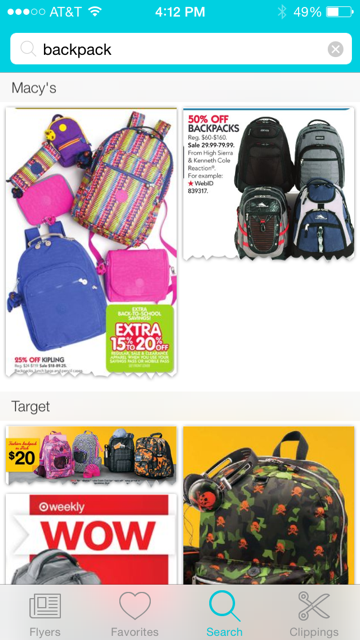 You can thumb through all the flyers, favorite stores you frequent, add items to your clip list, search for specific items you want to find the best deals on (like backpacks, for example) or just scroll to see what's on sale in your area. There's also a nifty little slider at the bottom that indicates percentage off to make it even easier to score the best deals. For me, that's the highlight of the whole app, and kind of makes me giddy.
There are no rewards offered, as with apps like ShopKick and Scratch Hard. But then, finding fantastic deals can be its own reward.
Flipp app  is available for free on iTunes and Google Play.