If you have a baby, you've probably said it's all going by so fast 20 times just this week alone–and then felt guilty at least four times for forgetting to record all those sweet moments in a baby book somewhere. We get it! We look for the best apps for new moms and parents for a living, and we know what we're all looking for. Like a pause button on this whole growing up thing. But since there is none, the Tinybeans app is here for us.
It's like a smart, interactive, free baby book app (yay free!) for Android and iOS that seems to know exactly where parents are coming from. And it's definitely worth checking out if you want to document all the sweet moments you want to remember, and share with the right people.
The Tinybeans app, recently redesigned quite nicely, works like a digital online family journal letting parents record photos, videos, notes, and track milestones following an easy calendar format. You can then share these moments privately with your own circle of friends and family, like a private social network for your pre-approved circle .
Huge privacy bonus: all the photos and content you post is owned by you–not Tinybeans.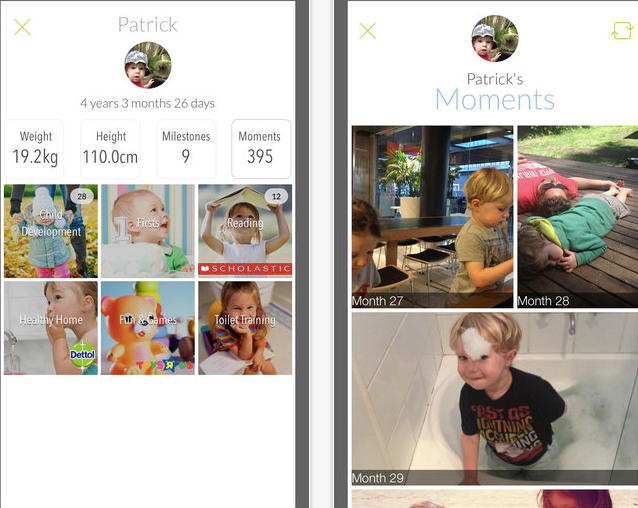 The paired-down interface keeps things simple. And the fact that you don't need to go the smartphone download route comes in quite handy for the grandparents–Tinybeans has a desktop platform as well as a mobile one.
The app can also send out daily update emails, so the grand folks won't miss a moment. Or if you want to skip all the tech sharing completely (what? Do people really do that these days?) or the grandparents aren't online, print and send them an actual baby book with all of the kids' milestones laid out.
While we've covered quite a few baby book apps in the past, this one has one feature we haven't seen all over the place: the Nurture Network. It's essentially a resource center for the app's users to get expert advice and info on their child's development as they move into different milestones. It's like having a mini baby advice book (the non-scary, stress-inducing kind) at the ready–though I'm not sure how many new parents will rely on this app for that over other trusted sources.
Overall, there's something awesome about being able to easily share Matteo or Matilda's charming potty-training victories — complete with photos and videos — without the worry of them floating around the Internet or ending up on Buzzfeed. And since it's a private network, you can remain a proud parent without flooding your entire circle's  social media feeds.
I'd like to think of the Tinybeans app is the right balance of saving and sharing public and private, keeping the peace between over-posting new parents and their over-it, eye-rolling Facebook friends.
The Tinybeans baby book app is a free download on iTunes and Google Play. Also check out our recommendations for some of the best baby book apps, and 10 of the best apps for new moms and parents.