While gift cards won't necessarily elicit tears of joy, they actually can make a lot of sense. Gift cards are a great choice for people you want to recognize, but don't know well enough to choose a personal gift, or for when you have a limited budget. Here are three helpful apps that might take the gift-giving pressure off, just a little.
We are big fans of Gyft (also shown at top), because hey, anything to make our lives easier, and Gyft certainly does that. Not only can you use Gyft to give gift cards from 200+ retailers (Starbucks, Amazon, iTunes, Whole Foods, Macy's, and tons more), but you can also use it to keep track of your own gift cards from anywhere at all. Which means no more hauling around a load of plastic gift cards; or worse, not having the right one on you when you make a purchase.
All you need to do is give Gyft access to your contact list or Facebook friends — don't worry, it won't post to your timeline unless you give it permission — pick a recipient, select the card for the lucky guy or gal and pay. Voila, gift giving is done in minutes. Your recipient doesn't even need the app to receive the card
As a bonus, you can also earn points on gift cards you give, and eventually have enough rewards to snag a few for yourself. (Free, iOS and Android)
When we think about gift cards, we tend to think of big box retailers like Best Buy, Starbucks, Amazon, and iTunes, but giving a gift card to a local boutique or someone's favorite neighborhood coffee shop or toy store is a lot more personal. The  Wonder app lets you do that. With more than 2 million large and local retailers having signed up already, there are lots of possibilities for a perfect gift match.
You don't have to have the app to give or redeem a Wonder gift card, but you do have to create an account and link a credit card, which makes it a little less user-friendly than some others. However the Wonder gift cards never expire; not that they won't get used by the end of January.  (Free, iOS)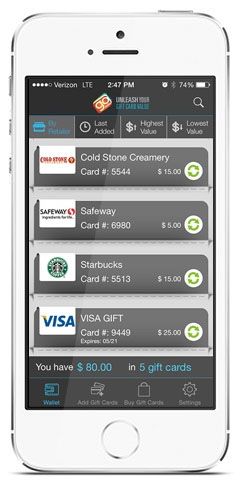 GoWallet works similarly to Gyft in that it helps you track your own gift cards and give gift cards to others, both via the app and online. GoWallet boasts about 300 retailers to choose from, including the retail chains and restaurants you'd expect to see, along with some interesting surprises to me, like Celebrity Cruise Lines and the San Francisco Giants.
You don't earn points on GoWallet for purchases, like you do with Gyft, but GoWallet offers a neat "sell back" feature: If you have a slew of gift cards you don't think you'll ever use, you can sell them for up to 92% of their value and receive an Amazon gift card in its place. Personally, I can always find something to buy on Amazon. (Free, iOS and Android)