Until recently, I thought a good charging station simply needed to keep my devices in one place and get unsightly cords off my small, crowded bedside table. But then I tried the HiRise Deluxe iPhone charging dock from the wonderful Apple accessory designers at Twelve South and realized there was so much room for improvement in the world of charging docks.
First, this metal pedestal is simply sleek and sophisticated. My gold iPhone 6 matches perfectly with the dock,  but the silver and black are very cool too, if you don't feel the need to match your device with the stand. The MFi-certified Lightning and Micro-USB cables (which are included with the deluxe model) run through the center of the base and out the back to stay out of sight. Plus the cords allow you to charge both the phone on its own or in a Micro-USB powered case which is a great option to have.
But what's especially cool is the way they are designed to poke out the top and anchor to the base. It means you don't even have to take your case of your phone or iPad to use the stand. Plus the adjustable angle is a terrific feature.
I even tried using the dock with a Mophie Juice Pack battery case which is pretty hefty, and no problems at all. The phone is supported beautifully and the charging connection stays tight.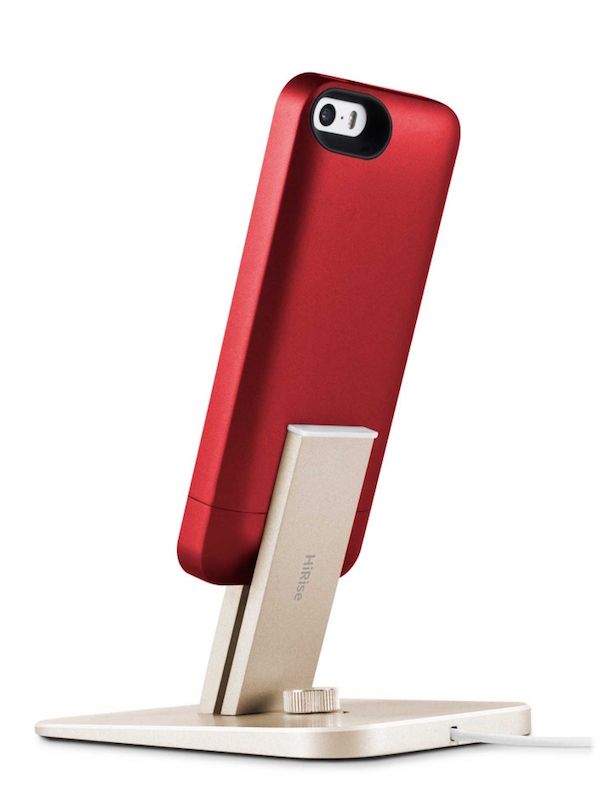 Another bonus: The HiRise pedestal doesn't block your audio port like a lot of other charging cases do, meaning you can be charging while playing music through a wired speaker, or taking a call on a pair of headphones.
Having the HiRise Deluxe on my bedside table means when my alarm goes off in the morning I can roll over and see the time on the screen rather than fumbling for it in the dark. But I may splurge and get second one for my computer desk, because having my phone propped up on the stand at eye-level is great for hands-free FaceTime calls too.
What a pleasure to find such a simple, smartly designed charging dock that looks as beautiful as that new iPhone 6 I've been carressing for the past month.
You can shop Twelve South's HiRise Deluxe iPhone charger  for iPhones and iPads at their website or at our affiliate Amazon. Plus, check out our archives for more charging stations and iPad stands.