We have gotten a lot of questions about how to properly repost an Instagram photo on your own feed, and no surprise, there are a ton of apps to help you do just that. Yes, you can technically just screenshot the photo, upload it to your own feed, and just tag it with the #regram hashtag and the source's IG handle, but wow, that's a lot of work.
So, we tried out the 3 most popular free Instagram reposting apps to help you decide which one is best for your own needs.
For the very, verrrry casual Instagram user: Regram 7 app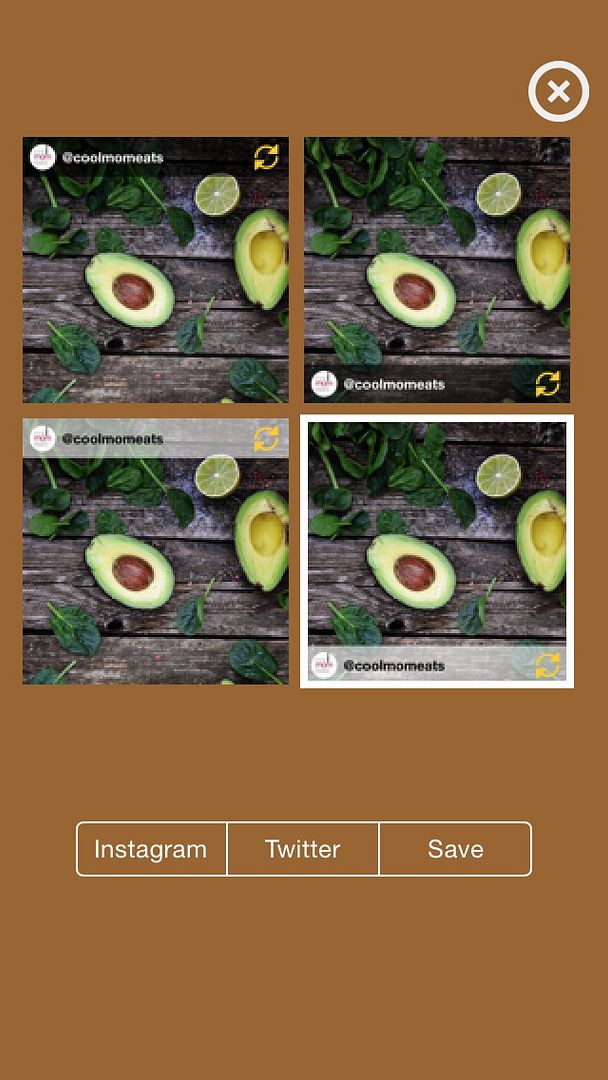 [Edited to add: Unfortunately, Regram 7 is no longer available. We have used InstaRepost, which is similar.]
The Regram 7 app has a format similar to your regular Instagram feed, and you can read all the copy. Good if you've got friends who write blog posts as IG updates. Ha! However, you can't can't like or comment on the photos through the app, which is a little confusing since you can see the talk box and heart button under the photo. And there's no clicking on hashtags either.
Once you decide to repost a photo, you get four options picked for you in terms of the watermark placement and color, plus, you get the option to post to Twitter, something the other two apps didn't have. But wow, the search feature isn't great.
You should note that Regram 7 automatically reposts and tweets with the hashtag #Regrampp, though you can turn that feature off if you choose. And yes, there are ads at the bottom, which can be a little distracting.
Bottom Line: If you're an infrequent Instagram user, and just want to be able to repost quickly, try this app. It's not the prettiest or full of features, but it does the very basic job. (iOS)
Related: The best Instagram collage apps
For the Instagram user who just likes and reposts: Repost & Regram app [Now called Repost It!] 
If you're a more regular IG user, take a peek at Repost & Regram [Now called Repost It!]. The format looks almost identical to your regular Instagram feed, so you can like the photos (though, I will say, a little slow). However, if a person's photo has a lot of accompanying copy (like more than a sentence), you can't read it. And hashtags are not clickable.
I do like that you can also customize the watermark on this app, both where it goes on the photo and whether you'd prefer a light or dark background, but it includes the app's name, which takes up a lot of space.
The ads are always at the bottom of your screen and they do pop-up every now and then, with a few being the kind that require you to watch for a few seconds before you can close, which yeah, annoying. You can upgrade to ditch the ads, but then you lose the watermark, which I think is the point of using these apps in the first place.
Bottom Line: If you check Instagram regularly, but just like the pretty photos and might sometimes want to share them in your own feed, try this. It's got more bells and whistles than Regram 7. (iOS) 
Related: 15 tips every Instagram user should know
For the social media pro (and my personal favorite): Repost for Instagram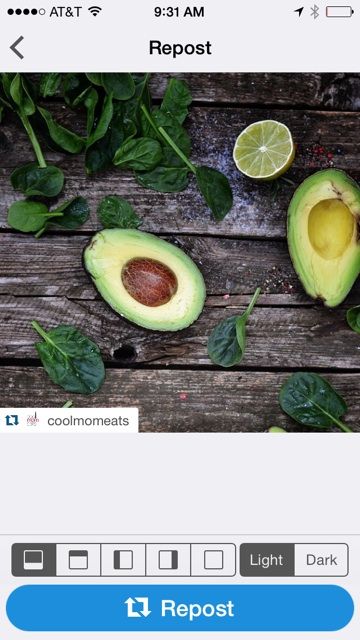 Once you login to Repost with your Instagram account, you'll see your Instagram feed in a grid format, which I will say take a little getting used to. However, this all means it's very easy to toggle between your own photos (labeled "Media"), and photos you've liked. I'm still not sure why there's a "Favorites" tab because you can't favorite photos on Instagram, so that seemed a little odd.
You can take a peek at Popular reposted photos and users who use the app, as well as search for users and hashtags on a screen that's pretty much identical to the search screen on the actual Instagram app.
Related: How to take better Instagram photos of kids
When you decide on a photo you want to repost, click on that photo in the grid, then just click "Repost" and you'll be given the options for customizing the watermark, similar to Repost & Regram. However, on this app, the watermark is small and modern. You can also click on hashtags and like photos, as well as see all the comments (though you can't leave comments through this app).
The free version does have ads, though they were pretty inconspicuous on Feed, Media, and Likes pages only. If you want to ditch the ads, the upgrade allows you to do just that, as well as manage multiple accounts apparently. However, like Repost & Regram, you can also ditch the watermark.
Bottom Line: Repost is perfect people who want to do lots of resposting, like social media pros, or people managing a couple of different accounts. And unlike the other two apps, it's available for Android. (Android, iOS)
Got more tech questions? Email us at info [at] coolmomtech [dot] com and we'll do our best to help.