They say every picture tells a story, which makes my six-year-old a master story teller. We get a book's worth of drawings from her each day and the explanations of her creations are always mind blowingly crazy awesome. So imagine our excitement when we discovered Makesto, a free, user friendly storytelling app that allows kids to digitally write and animate in their own voices. How perfect.
Related: The Shadow Puppet app lets kids turn photos into videos
Created by dad and developer SR Jeyashankher, Makesto was designed to be so simple and easy that his seven-year-old could enjoy it. Using a very intuitive interface that uses touch technology, the whole thing really isn't so different than if you were sitting down to write and illustrate a story on paper. It's a cool way for a kid to bring a favorite family bedtime story to life, or just make up their own. The options and opportunities are endless.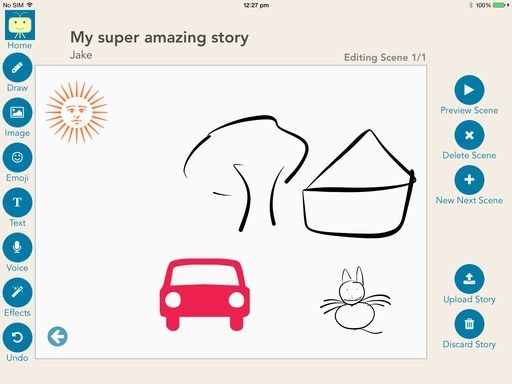 For example, in addition to drawing  your own pictures as illustrations, you can also use their customizable emoji, or upload your own photos. You can also create simple animations by using the pre-built effects, allowing your characters to actually move around in the scenes! Then, add text, record a voice narration, or include sound effects.
So say your child wants her orange and purple unicorn to hop over a mountain while singing Uptown Funk? You got it.
It may not be as slick as some similar apps we've tried — the combo of the clip art and emoji plus a child's own drawings can make things look a little mishmosh — but it won't stop kids from loving it.

Sharing is one of the parts I like best about Makesto. When you finish your creation you have the option to email it, or publish it so that other Makesto users can view it. If public sharing is a concern to you as a parent, I like that all the videos prescreened before being made public, and that parents have to enter a password to first give permission.
All these features helps keep Makesto a safe play space and creative outlet for kids where they can relax and let their imaginations run wild. Which can be a huge benefit when you're stuck in a tiny airplane seat or in the back of a car for several hours at a stretch. Trust us on that one.
Download Makesto app for iPad free at the App store and learn more at Makesto.com. No in-app purchases! It's probably best for kids 7 and up, but younger kids could use it with a little guidance. You might also want to check out this simple tutorial video from Makesto to see some examples of what you can do.