We have officially entered the "please turn that music off" stage of parenting. Yay. (Sarcasm.) We have been lucky to try various kids' headphones over the years, and I've compared some of the top affordable headphones for kids. They're all under $30 and worth comparing to see if they suit your needs, whether you're looking for a little peace and quiet in the back seat of the car, in the living room while you work from home, on a cross-country plane ride, or who knows — maybe while they watch an hour of educational videos for homework. It could happen.
Just know that all of these max out at 85-decibels, which is considered a safe listening volume for kids. But it also means that they're not going to sound like your Bose noise-cancelling headphones if you're in a noisy plane cabin. So if you buy volume limiting headphones, don't write Amazon reviews freaking out about how quiet they sound. That's the point, right?
Also know that kids can be rough on their electronics. If you see a few "they broke in six months" reviews on places like Amazon, well, I can say that about a lot of things that little kids touch. Just take those with a grain of salt.
CMP is an Amazon affiliate
We've had a pair of these volume limiting headphones (also shown at top) for more than a year now and they're still going strong. We find they're very comfy for both preschoolers who have come over and borrowed them, and for my ten-year-old who still very much likes hers. We owe the longevity in part to a flexible construction that bends the headband instead of breaking. But one of the unique features I really love is the built-in audio splitter that lets multiple listeners to plug into the same headphone jack without an additional adapter.
I will say though, that's not always a benefit; my daughter gets very annoyed when her sister "plugs into my headphones without asking." (Another fun parenting phase!)
The company has now introduced a new series called the BuddyPhones Color Your Music Series (available at our affiliate Amazon) which is basically the same headphones only with a pack of decorative stickers, as is the trend these days. This way, kids can turn their plain blue or pink or purple or yellow or green headphones into ones featuring stars, crowns, skulls and so on. I have to say though, the blue and green headphones have the coolest variety; I wish the pink headphones offered skull stickers too. ($29.95)
Verdict: Highly recommend, especially if you have more than one kid.
It's hard to believe we've had our kaZoo frog headphones now for a year and a half, and they remain in fantastic shape. They have survived plane trips, backpack rides to and from school, and cord tangles in the living room. The sound quality is pretty crisp and clear, and my kids find them very comfortable. The only real drawback is that my ten-year-old is starting to feel a little old for cute animals on her ears. My third-grader still digs them though. Also know that the penguin (which I think is the cutest) seems to be out of production, so you'll pay a little more for that one, compared with the monkey or the frog.
The volume-limiting definitely keeps kids from blasting out their eardrums, however I find the sound is pretty great. I wouldn't hesitate to buy them again as a gift for a younger child.  ($19.99 retail price on the Griffin site with limited availability; $16.99-34.99 on Amazon depending on the style)
Verdict: Highly recommend for younger kids or even tweens who like cute animal things.
This is the first pair of headphones I got for my kids when they were preschoolers, and they suited us perfectly well until they somehow disappeared. As things often do. Looking at reviews across the web, we're not alone in our love for Kidz Gear; they get really high marks on all sorts of sites for comfort, durability and audio output. In fact they use the same components as in adult headphones, and even fits an adult head. Plus the look isn't too "kid" if you know what I mean.
If it weren't for that Kidz Gear logo (and what is with every headphone brand turning S's into Z's?) they could nearly pass for the grownup stuff.
Since we first bought ours, the headphones now come with a volume limit cable that actually takes the audio volume limit down to about 65 if that's of interest,  it's a separate component so you can leave it behind unless you're flying. Unfortunately though, if you fly a lot these don't fold down flat like some other options so just keep that in mind.
Another benefit is the lifetime warranty — not that you'll need it. I mean, at some point your tweens are going to be begging for Beats or Skullcandy or something that their friends have. But for little ones? These are a fantastic option. And they will love getting to pick the colors, which is more than my kids could do when they only came in silver. ($19.99 at Amazon)
Verdict: Very highly recommend for kids of all ages.
I'm generally of the mindset that you get what you pay for with audio equipment, but I find these volume-limiting headphones from KidzSafe are lower on my list than the BuddyPhones, even though they cost $5 more. These look higher end, with solid construction and good earpads, but when it comes to sound, the volume sounds particularly low to me. I think if your kid is using them alone in a quiet car, they're fine, but if there are any noises to block out, I've seen a lot of similar complaints.  That may make them better for a younger child, who really doesn't need to max out at 85 decibels for Elmo videos on the iPad.
This is another headphone that's all about the customization, by the way, with 50+ "designer" stickers and ear pads that are cool to mix and match. I do like that they come with an extra cord, because…kids. Just know that the pink headphone stickers include rainbows, diamond rings, tiaras, and puffy letters spelling out "princess." I know that will appeal to a lot of girls, but my younger daughter said she wished she could have the pink headphones with the blue headphones' sticker pack.  ($24.95)
Verdict: Recommend if you are okay with the "pink is for girlie girls, blue is for cool boys" thing.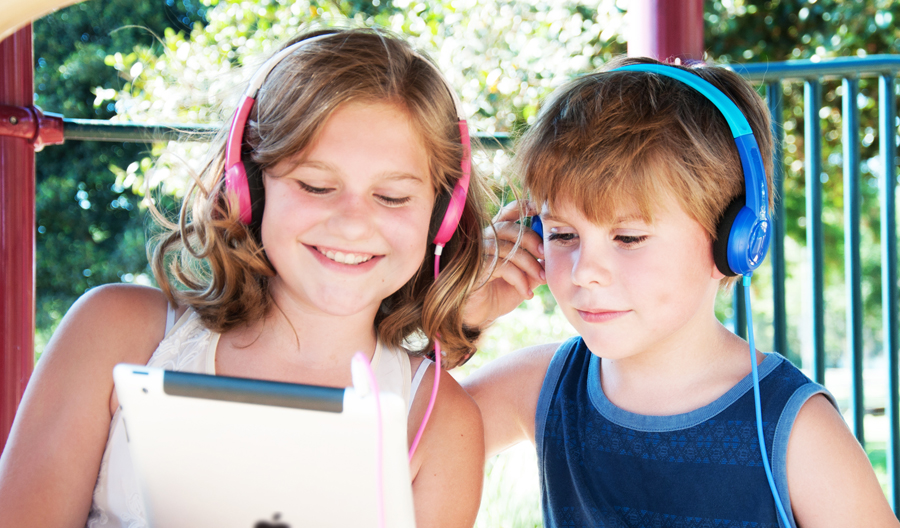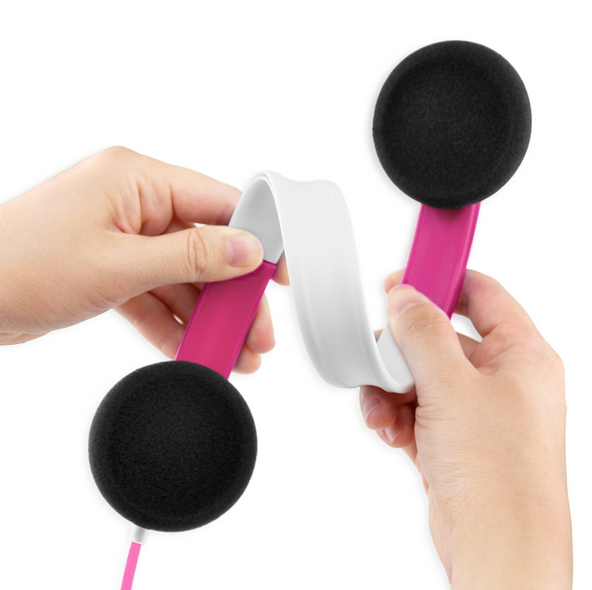 (Yep again with the Z thing.)
I haven't tried these headphones myself, but our contributor Stephanierecommended them late last year, and considering she works in the music industry, that's good enough for me. Like the BuddyPhones, they have a flexible frame that you can twist nearly into a mobius strip which is a smart move when you're talking kids and tech, plus the headphones extend to fit bigger heads as kids grow.
As for the sound quality, Stephanie, along with plenty of other reviewers, claims it's quite good even at lower decibels. What really grabs me though is the price: Under 15 bucks at Amazon! I would love if they came in more colors than pink and blue, but I imagine between those two colors, you'll appease the majority of music-listening kids out there.
Verdict: Highly recommend; amazing value for the price
In a case of you get what you pay for, Zagg — which a now makes Little Rockerz headphones after a 2011 acquisition of iFrogz because yo, the Z companies have to stick together — has introduced this affordable option in kids' headphones. The sound isn't bad, maxing out at 85 decibels like the others; however it's described as "rich and full" and I would definitely not go that far.
We have owned these for the least amount of time and they're still holding up, but the reviews of these long-term are pretty poor across the board, with complaints that one side will conk out pretty quickly, shortly followed by the other. And by the way, I see the same complaints with their EarPollution Toxix Plus kids' headphones so I'm sensing a pattern.
To be honest it's surprising to me, considering how good some of Zagg's adult headphones can be. So it seems like they need to do a little work on their kids' offerings.  (As low as $13.99 on ebay, as high as $28 on Amazon but listed at $19.99 on the Zagg site with free shipping.)
Verdict: Not a recommendation
Note: I have yet to personally try the Sony MDR222KD Children's Headphones which get very good reviews and are just $12.99-14.99 on Amazon, but they're worth a look. They have a foam ear pad more like the Kidjamz phones, which account for the lower price for each. They're recommended for ages 8+, though some parents of three and four year olds seem happy with them.