While things we find on Kickstarter aren't usually available in the immediate future, if you've already got holiday shopping on the brain (eek!) it's worth taking a look at Cannybots, a Kickstarter campaign for a very cool new tech toy that taking off and slated to ship by the holidays.
Now since it's just the beginning of October, I will say while I'm not in full holiday gift shopping panic mode, I am taking deep breaths and making a note of which cool tech toys are getting attention now so I won't be scrambling last minute. And this is definitely one that caught my eye.
Without having tested it myself, Cannybots appears to be similar to the Anki OVERDRIVE system that Liz loves, but scaled down, geared towards a younger audience and with a few other key differences.
I get the impression that the cars are more suited to younger hands and the racing speeds look like the imaginary drivers follow speed limits rather than actually racing.
Related: Anki OVERDRIVE: The holiday tech toy of the year?
Still, the core concept is the same: cars are placed on a track and are controlled via an app that lets kids dictate direction, speeds, turns and overall driving ability. There are three modes including racing, dueling and freestyle driving; and while there are of course tracks that come with the kit, you can print  variations at home to vary up the course.
I think parents will really like that option a lot, since keeping the game fresh doesn't always require shelling out for new parts and pieces.
Along those lines I also like that kids can lay plain black tape on the floor, and the built-in sensors on the cars are able to read that as a track as well. That really opens up the creative juices and lets kids make tracks all over the house. Of course, as long as you're okay with kids making tracks all over the house. But that flexibility in design lends itself well to spaces of all sizes, without constraining kids to one specific track design.
What's also neat about the Cannybots kit is that it comes disassembled, so in addition to the lure of racing, kids can really be hands-on in terms of constructing their cars themselves, along with design them with the various sticker options that come with it.
As for the accompany Cannytalk app it definitely seems way less like a technologically advanced video game relative to Anki OVERDRIVE, because it has a different aim entirely — teaching kids the basics of programming. Instead of using code words that might be hard for young kids to understand, they can simply type in commands in a texting style format like turn right, go forward, show green, that the app will automatically convert into action.
In time, kids can even be programming the Cannybots to navigate an actual maze.
There's even the option to 3D print your own Cannybot racers in time, and some teachers are already incorporating that into an engineering or STEM curriculum. Wow.
Related:  Dot and Dash Robots: 1 tech toy. 4 kids. 3 cool project ideas to start.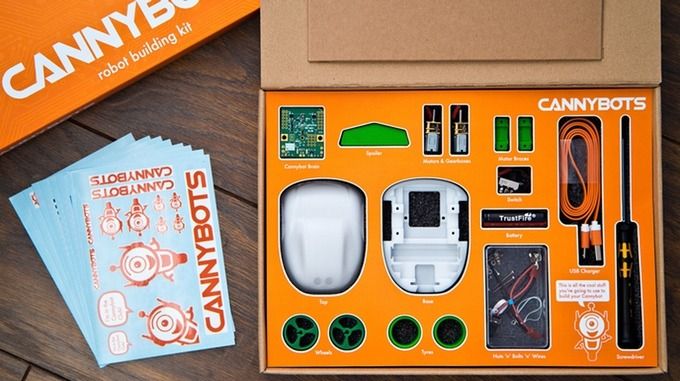 I'm excited by the prospect of so many learning features of Cannybots lots of families will appreciate. Between the racing cars, the customization, programming and education elements, this looks like it has the potential to be another hot toy for the holidays — provided it ships in time.
Judging from how the campaign has already blown its Kickstarter goals out of the water with a whole month left, other parents seems to be excited about this too.
Pledges for Cannybot products start at $89 with an additional $29 for the large format track, but hurry before those Earlybird specials are gone!  Shipping is slated for December 2015 with the full retail price at $119. For more details, check out the Cannybot Kickstarter page.