With four kids in the house ranging in age from five up to 11, it's no small feat to find a tech toy that they can all play with, especially when it's something educational. Darn those age limits. But as I recently learned, that's not the case at all with the Dot and Dash robots from our sponsor Wonder Workshop, who happens to be launching their very cool new Wonder app today, making that five total free apps for kids to use with the bots.
CMP is an rstyle affiliate
This is a toy we've all been super excited about, singing its praises since we discovered it at CES earlier this year. So we're thrilled about their brand new app, which comes complete with all sorts of games and project ideas for using both robots together — plus ideas for just the cute little Dot robot, which just finally became available for purchase on its own. (Not that you won't want both.)
Trust me when I say that having these robots in your home is like your very own personal coding camp, even for your littlest budding scientists and programmers as you'll see with my kids below.
So I handed the bots and my iPad over to my kids, to see just what different kids of different ages and interests would choose to do with them using the Wonder app.  Turns out, they all had a blast creating some easy projects.
(Though I shouldn't say "we" because my kids did them all on their very own.)
Hope they inspire your own kids to get really creative and find the joy of creative play through coding. Though if your kids are anything like mine, I bet they'll easily come up with tons of ways to use their own Dot and Dash without any help at all.
Bridget, 5: Bowling with Dot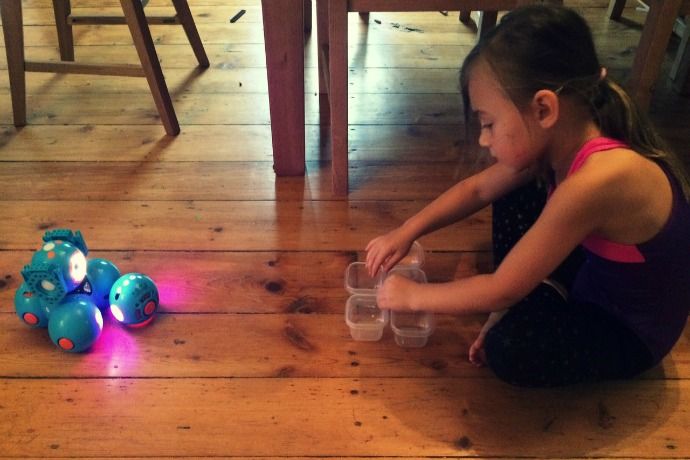 Bridget loved the joke about the robots playing soccer in the smart, funny Bo and Nano's comedy minute video that she saw on the Wonder Workshop website. So she decided to do something similar and have them go bowling. She teamed up with her sister Margot — and Dash — to make it happen: Bridget lined up the plastic cups as pins and Margot programmed Dash to push Dot as the bowling ball. Way to teach cooperation and working together!
While we didn't turn ours into our own stop-motion video yet, I really appreciate how there are so many layers to the learning, which helps keep kids interested and engaged.
Related: 9 awesomely cool coding projects for kids using the Dot and Dash robots from Wonder Workshop
Margot, 7: A Robot Chariot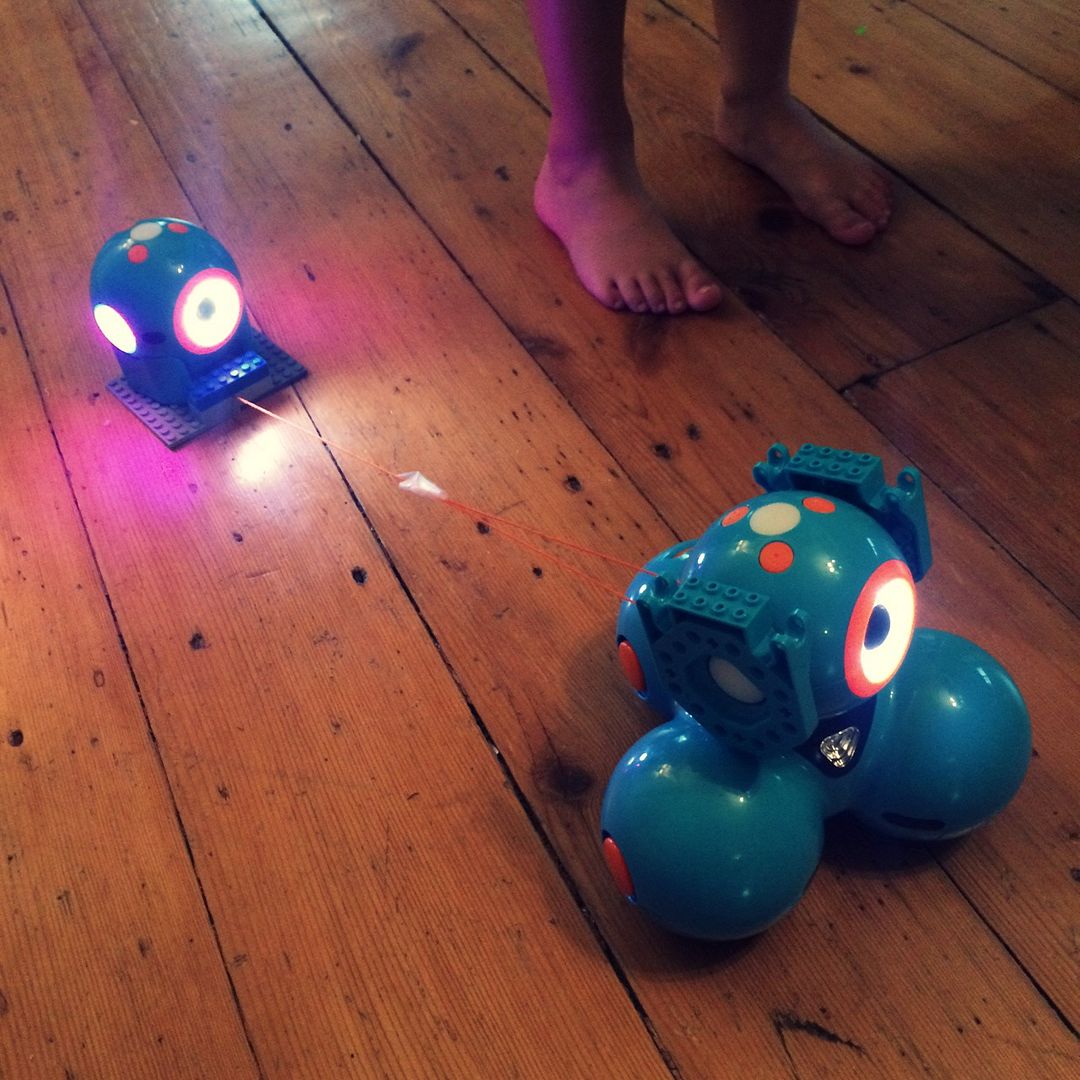 When we unboxed the robots, Margot was instantly drawn to the cute little Dot, whom she named "Bob." However, she was a little bummed out that he couldn't move on his own. So, she made him his own little chariot out of a LEGO brick and some string so Dash could pull him. She was very careful to make something that could be worn on Dash but still taken off, hence her solution of putting the string around his head.
She actually kept experimenting by trying different kind of wheels beneath the chariot, though in the end, she concluded that the flat surface of the LEGO was actually the most effective, at least on our hardwood floors.
Drew, 9 (almost): A Robot Snack Carrier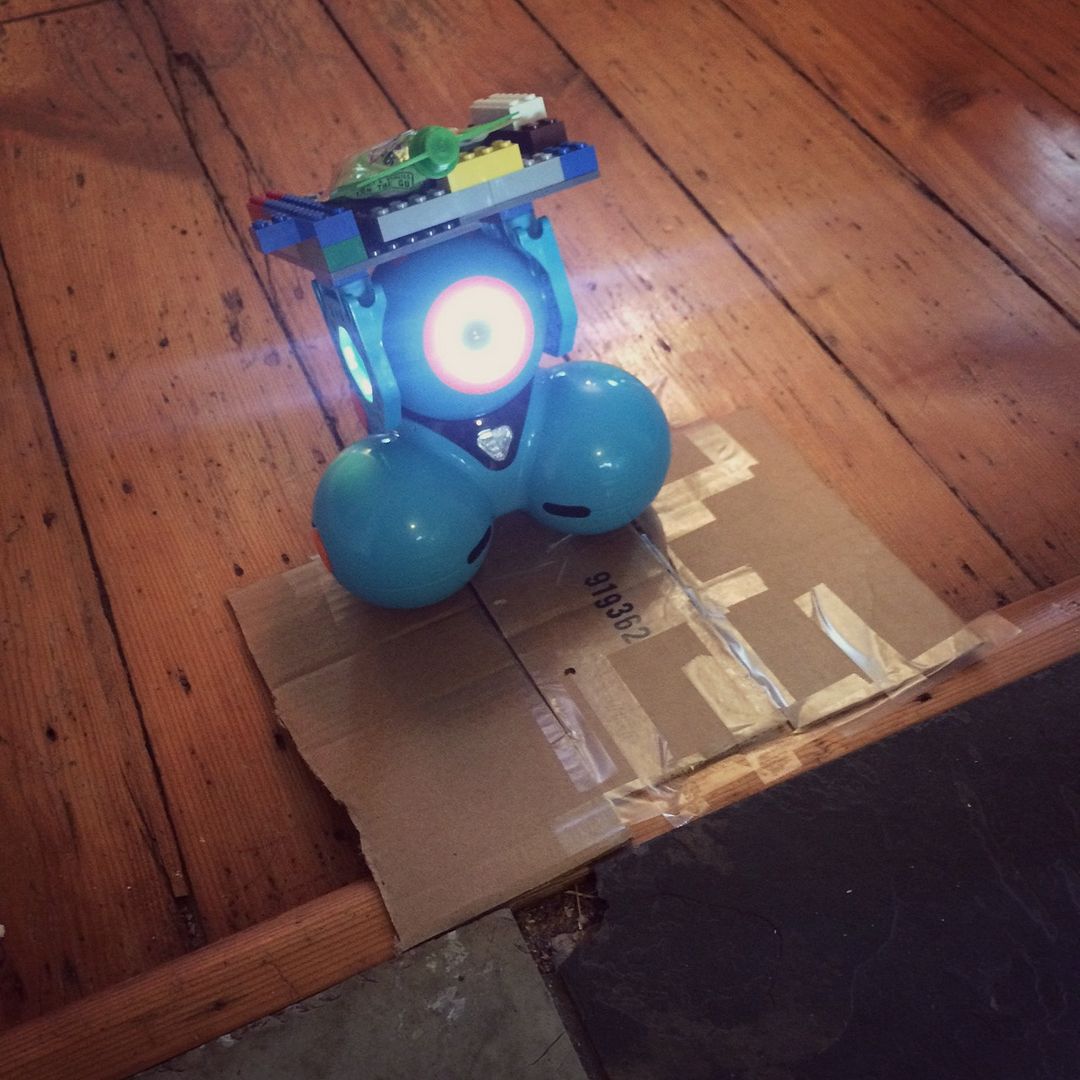 My third-grade son is constantly asking for food. Sound familiar, parents? So he came up with the idea of turning Dash into his very own robotic snack carrier. Armed with LEGO bricks and a bag of his favorite chips, he created a cardboard ramp to get Dash into the kitchen, and designed his own special snack bin.
After several programming tweaks to account for the ramp and the slight tilt of Dash's head, he decided to figure out a way to rig a magnet and a clip in there to secure the snack on its way from the kitchen back to his seat on the couch.
I love how this activity, which he came up with all on his own, required him to do lots of problem solving. And I really love that he even programmed Dash to say More snacks please! Take a peek below at a snapshot of what he put together in just a few minutes.
And yes, I'm a proud mama. Can you tell?
*****
Thanks so much to our sponsor Wonder Workshop for helping teach our kids about robotics, programming, and coding in such a fun way. You can now purchase the Dot robot on its own for $49.99, and be sure to download the brand new free Wonder app for tons of cool games and project ideas for kids of all ages.