Honestly, haven't we all rocked out to an air guitar at some point in our lives? (Or maybe this morning in the shower — ahem.) Pretending to be Lenny Kravitz or Joan Jett shredding the axe and professing our love for rock 'n' roll out loud got a little less fake and a lot more fun when Guitar Hero stepped to the video game stage 10 years ago.
Now, here comes Guitar Hero Live, a newer version of the hit music rhythm game to kick things up a few chords. And just in time for a rockin' family holiday gift if you've got tweens or teens at home.
First, the tracklist (currently 42 songs) has an impressive range: Rage Against the Machine, Rihanna, Kings of Leon, R.E.M., Avril Lavigne, Queen, Katy Perry, Pearl Jam, and of course rock band mainstays like The Who and the Rolling Stones.
As for the game itself, some of the biggest changes start with the game's guitar controller which now features two rows of buttons, simulating the frets on the real instrument. Basically, it gives the guitar a nice layer of authenticity allowing you to strum open notes and "play" bar chords.
The one hiccup however is that any old guitars you may have from the original Guitar Hero won't work here. You've got to start fresh with new controllers, and lack of backwards compatibility is generally frustrating. Still, the upgrades will be worth it for what's really a whole new gaming experience.

But what makes this game totally fun is that there are two modes — Guitar Hero Live Mode,  and Guitar Hero TV Mode, a new online network where you can compete remotely against other friends (or strangers) online.
I'm more a fan of Guitar Hero Live Mode for family gaming, however, and it's fantastic. There's no animation here; you're choosing which music festivals you'd like to play and selecting which band you want to jam with. And — best part — it features live-action concert footage, giving you a right-there-on-stage POV shot from the stage, using real audiences pretending to be there to see you and your band, you Rock God/Goddess, you. The front row ticket-holders even hold up signs to root you on. Plus, having your bandmates chat and interact with you between your four-song set also makes it feel super real.
Mind, if you don't keep up with those guitar licks and start messing up the music, that same cheering crowd will turn on you, and fast. Do a bad job and your bandmates, along with the roadies,  will give you realistic feedback with well-placed head shakes, stink-eye looks and, of course, a rousing You suck! right to your face to get the message across. That might be a little intense for younger kids, but it's pretty fun for us.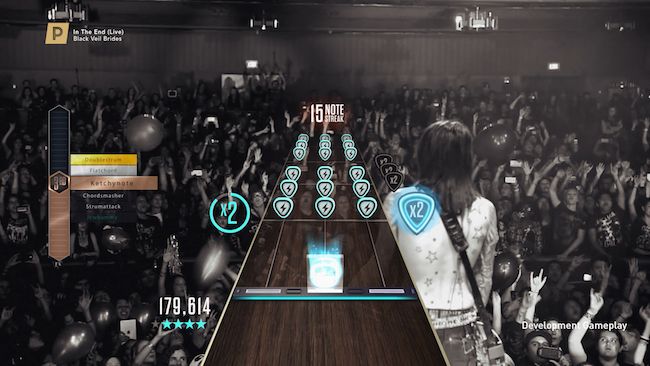 Trying it out for the first time, I figured, how challenging could faking guitar playing be, right?  Uh, answer: Pretty darn challenging.
Keeping up with the notes, that often come hard and fast, and stretching my hands across the neck of the plastic guitar kept me on my feet putting in some serious work and concentration. You will get way into this; I may have even tossed in a few high-kicks and a semi-split for effect. (No leather pants mishaps though, I'm happy to report.)
I will say though that while the game is rated 10+ I think younger kids with smaller hands will have a hard time with the guitar. Depends on your kids, of course.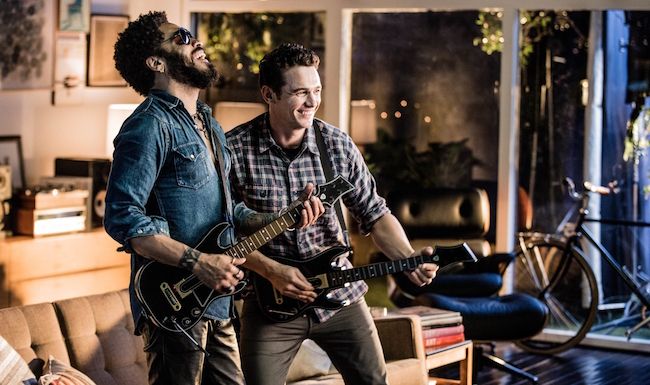 The Guitar Hero Live trailer featuring Lenny Kravitz and James Franco is spot on.
I've also read some reviews that complain about the music set list being somewhat "tame" and limited. This isn't an issue for me — I'm not like Ozzy or death! —  but I could see how a family could burn through the 40-odd Live mode songs available in a couple hours on Game Night. Mastering them however is another thing.
Also, a lot of tracks seem to be chosen for popularity sake, and not necessarily because they have the best guitar licks, which is one of the things that made the original Guitar Hero so beloved. How you feel about it will depend on how serious you are about your air guitar skills.
As for that limited playlist, it's likely because the game makers want you to spend more of your time (and, by extension, your money) playing online in the multiplayer mode, Guitar Hero TV, where leveling up gets you additional powers, levels and tunes to play. While TV mode lets you play an ongoing stream of songs, kind of like a radio station, you can use coins you earn or purchase to play a song of choice on demand, though you don't actually get to keep that song which is a bummer. More like a video game — one play, then plop down some more change for more chances.
This could be appealing for serious competitive gamers or people playing alone but honestly, for families I think that the regular Guitar Hero Live mode will be plenty fun enough. I have that Avril Lavigne track nearly memorized by now, if you need any proof.
Guitar Hero Live is available for $99.99 with one guitar and $149.99 for the two guitar bundle. It's available for PlayStation 4, PS3, Xbox One, XB360, and Wii U. Thanks to the company for providing CMT a basic game for review consideration.
Also, check this Reddit Guitar Hero FAQ thread with some excellent details for questions you'll have that aren't totally clear on the website.