When I heard that View-Master had updated and gone full Virtual Reality, I was intrigued. Had the toy I'd grown up peering through to see tiny photos of animals in the wild really gone high-tech? All for under $30 — or even under $25 on sale at Amazon?
Yep, that's the View-Master Virtual Reality Headset, which now brings imagery of outer space, wildlife, and world landmarks to life with a smartphone, Augmented Reality technology, and one of three Experience Packs.
So, how is it? Well, I've got a lot of caveats, but also some good reasons I think a lot of parents will want to grab one for their kids.
This higher-tech version of the View-Master toy is aimed at older kids, ages 7 and up, as opposed to only three for the traditional View-Master. What you get in the starter pack is a View-Master Virtual Reality headset, or basically a plastic case in which most smartphones will fit. (You hefty iPhone 6 Plus users are out of luck.)  Then you download the free iOS or Android app and you're ready to go.
Well, kind of.
It is definitely a bit time-consuming to set up — you get a full sense of the process on the View-Master demo video. Your kids will need to remove any phone case before they put it in the headset case, which is admittedly a bit of a pain, especially if yours use a protective case that's not supposed to be easy to pop off.
Also know that when you do get everything set up, you will only be able to unlock a very limited tour of what can be found in each of the three Experience Packs with your starter pack. In other words, I'd be wishing for more if I had simply purchased a starter pack for Christmas and realized my kids weren't getting much of an experience.
For that reason I'd definitely recommend grabbing one more more of these packs ($10-15 each on Amazon) from the outset since they provide a much more satisfying visual tour. However when you do, it is very immersive, and very cool.
I could peer up at a 360-degree Eiffel Tower or move around the Statue of Liberty from the comfort of my living room. My son really likes the outer space pick which allows him to zoom around checking out different planets and spacecrafts. And with the Wildlife pack, developed in conjunction with National Geographic, we're able to wander through an animated version of the savannah, outback, and Amazon, all without taking a single step.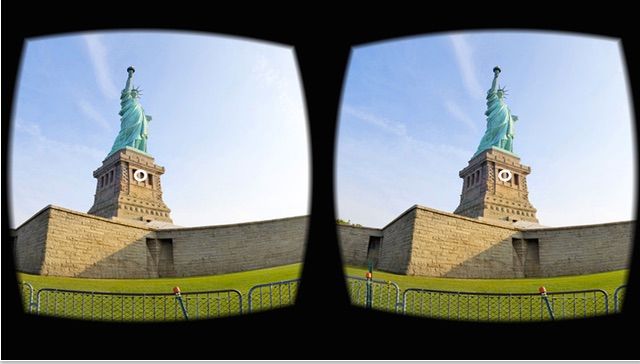 Now I would love for there to be a bit more depth to the information presented and maybe even an audio tour for kids who would rather listen to learn more, than simply read the short captions in front of them; though perhaps these features will come with future app updates. Especially considering this is for older kids who are used to immersive educational apps and websites that let them easily go deeper into subjects they enjoy. Plus updates to the app itself would keep finicky older kids coming back to see what's new.
(Remember, one of the cool things about the original View-Master is that preschoolers can look at the same images, or read the same stories over and over again a zillion times and keep their interest.)
That said, I am pleased to discover that we can actually use the View-Master viewer to play Android and iOS apps made for the Google Cardboard VR experience — virtual roller coaster rides for all! And that definitely helps extend the use of the toy beyond just the three existing reels.
In fact, that may end up being the most useful part of the View-Master VR viewer in the long run, considering how many apps already exist for Google Cardboard.
So, while it is admittedly fussy to use and requires you hand over your smartphone every time the kids want to play (unless they have their own device already), as an entry toy into the possible future of Virtual Reality, View-Master definitely impresses with some fantastic imagery. But hopefully, this is all just a start. What I really look forward to is seeing where this little toy may take us next.
Order the View-Master Virtual Reality Starter Pack and all three of its separately sold View-Master Experience Packs.from our affiliate Amazon — hurry if you want to get free Prime shipping before Christmas! Or, stop by one of many retailers, such as Target or your local indie toy store, which may have View-Masters in stock in time for Christmas.
Thanks to the company for sending a review unit.