If you haven't quite gotten around to having your kids write out their thank you notes for all those Christmas and Hanukkah gifts they got last month, you might want to check out the new Felt greeting card app which just launched. By letting you design your own greeting card and add a handwritten message, they're bringing back the charm of written letters with digital ease, so our kids can practice some old-fashioned manners with a very modern sensibility.
In the app, you can choose from pre-designed greeting cards in all kinds of shapes, for all kind of occasions, and even pretty "thinking of you" cards. Or, choose from the main menu to design a custom photo card with your own favorite picture then add overlays to customize.
Then — this is where the magic happens — you use your finger to hand write the message on the back of the card. I was skeptical, because how can this really look good when I'm doing it on my phone? But it actually does look like my handwriting. (At least, my one-fingered on-screen handwriting.)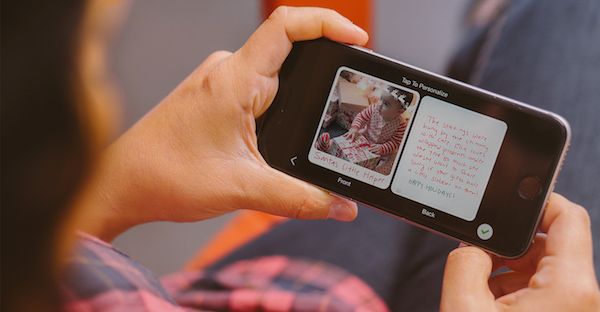 Felt suggests zooming in when you write for more clarity; even better would be to create the cards on your iPad instead of your iPhone. But either way, it really works. You can even write the mailing address on the envelope by hand too.
But this is no ecard — when you're done, Felt prints your actual card, stuffs the envelope, licks the yucky-tasting glue on the back so you don't have to, applies the stamp by hand, and then mails the card for you. The price (which varies by card style) is about what you'd spend at the drugstore on a greeting card, only no need to go to the drugstore.
Kids, I think your thank you note writing excuses have officially run out.
Download the Felt greeting card app for your iPhone or iPad today and get your first card for free – normally about $3 from start to finish including mailing and postage, or send the same card to multiple recipients for an additional $1 up to 4 cards. You can also mail them internationally for just $1 more.