We do our best to save energy at home, but it is easier said than done with three kids who like to leave lights on all day long. (Even in the closets. Just, why?) That said, smart thermostats have been making it easier for so many families to conserve on heat and air conditioning usage for the last few years,  without even having to think about it.
Devices like the ecobee and Nest have been huge hits, and now tado° has entered the market with a smart thermostat for heating systems that's very impressive and definitely worth a look. It's even on sale right now through our affiliate Amazon.
But the one catch with all of them: they require a home to have central heat or cooling systems. Not so great for a lot of apartments or even older homes.
So I think it's great that now you can apply smart thermostat technology to your air conditioning unit too, with the tado° smart climate control device.
(Of course, right now most of us are more interested in warming up than cooling off, but that will change before you know it.)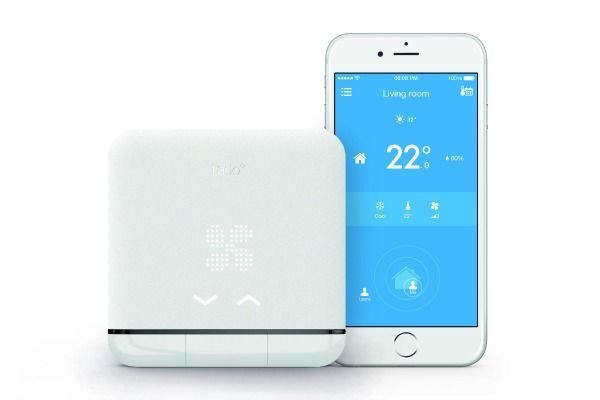 The tado° wall hub replaces the remote control for your air conditioning unit, and it adjusts the temperature in your house using geolocation via your phone (Android and iOS). In other words, when you leave your home (presumably with your phone in hand), it instantly knows, and will adjust to your "away" preferences. Then, when you're getting close to home again, it will start cooling it off so your home hits the perfect temperature when you get there.
Don't worry about being stuck with a too-cold or too-warm house while you're away. You can override the settings anytime, from anywhere. This is great if, for example, you have a cleaning company coming in or the kids come home from school before you get home. Or, for the most obvious reason — you leave home while other members of your family are still hanging out.
If you're a data nerd and really want to track your usage — even how much you're spending to heat or cool your home on a particular day — you can do all that on their tado° app too (iOS, Android, and Windows). And with the money you'll save by not wasting energy heating or cooling when there's no one there to enjoy it, tado° might even pay for itself.
The one bummer is that the radiator control unit won't be available until this fall. That's something I know a whole lot of us wish we had right now.
The tado° smart climate control system is available at our affiliate Amazon, currently on sale for $20 off. It works with any remote-controlled air conditioner, including window units, portable units and wall units. And you can always change or update your preferences from your phone, wherever you are.