As much as I love the vastness of the internet, sometimes I just want to find the perfect little black dress (should Liz and Kristen not be around to tell me just what to buy!) or the name of a great family restaurant at the beach without having to scroll through a hundred options or poll all my Facebook friends. Enter the Operator app, a hot new app for iOS that can connect me with experts around the country, 24/7, to help me with requests both big and small.
Co-founded by one of the founders of another groundbreaking service, Uber — maybe you've heard of it? — Operator is supposed to harken us back to ye olden days, when we could push 0 on our phones and ask a telephone operator for some help with a number.
However instead of just asking for phone numbers, the Operator app can help you track down everything from a first-edition book, to a gift for your wine-loving mother-in-law, to great Bluetooth speakers under $50.

If you like their suggestion, purchase the item right from the Operator app, which remarkably claims no added fees or markups. They'll even keep you posted on the shipping status until it arrives at your door.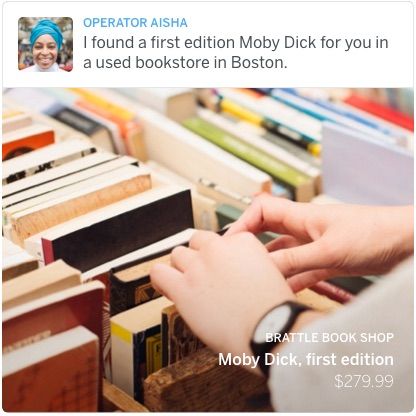 I particularly love that the Operator app can help you find things to do in your own town or an unfamiliar spot on a family vacation. For parents who need to find a great rainy-day activity or when you want a quiet little spot for a last-minute dinner à deux, a service like Operator could quite literally save the day. Or night.
Launched back in April to a massive backlog of 80,000+ interested users, Operator no longer has a wait list for new users which is good news for those of us who want to download this free app right away.
While I'm sure my need for my iPhone apps like Google, Yelp, Trip Advisor, and Amazon aren't going away, I think Operator is going to be a very handy new app indeed.
Check out he Operator app for iOS at iTunes or learn more at Operator.com