I sometimes think I have the sense of humor of a ten-year-old, which comes in handy since I do have a tweenage son who thinks things like talking cupcakes and singing basketballs are pretty hilarious. What's even more hilarious is when we can record our own voice coming out of these things which is something the free and totally silly app ChatterPix Kids lets us do.
Created by long-time favorite and often educational-app company Duck Duck Moose, ChatterPix Kids for iOS is more entertainment than educational, which is just fine for some creative play time.
Just take a photo of anything: A sandwich, the dog, a stuffed animal, a hungry belly (yes, that's my son), draw a straight line where you'd like a mouth to appear, and then ChatterPix kids will record your 30-second-or-less message that will appear to come out of the moving mouth on the photo.
There are also a bunch of stickers, frames, and photo filters to add to give that basketball a little bit of extra personality. With no in-app purchases to worry about, it's easy to let the kids go to town with this app.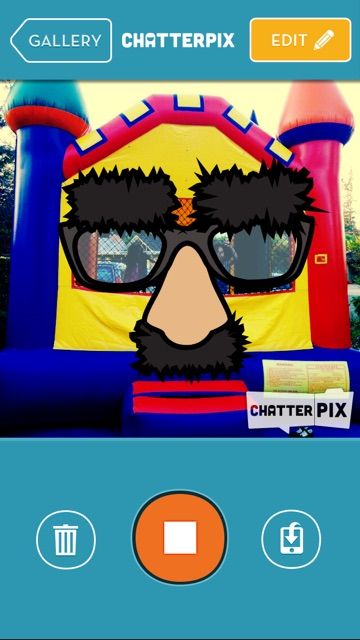 Yes, it's ridiculous, but it's also so funny, especially if you can convince your kids to keep their message a little less than 30-seconds which can feel very long at times. Just remind them that brevity is the soul of wit. Or Daddy just can't sit through 30-seconds of your talking stomach every day.
ChatterPix Kids by Duck Duck Moose is available to download for iOS. If you'd like your older kids to be able to share their creations via email, Facebook, and YouTube, you can check out ChatterPix which is rated for kids 12+ and is also free.