With kids out of school and summer officially here, I'm pretty sure most parents are struggling to figure out how to manage their kids' screen time. We've featured lots of screen time management ideas here on Cool Mom Tech, as well as smart gadgets that can pretty much do it for you.
But we thought it would be helpful to find out what real parents are actually doing to keep track of small gadget use in their own homes this summer. So, we interviewed our own staff of cool moms to find out how they're dealing with their own kids' screen time. Here's hoping their suggestions might assist you in figuring out what will work best for your family.
Related: Circle with Disney screen management system – Is it worth it for parents? 
1. The Marble Jar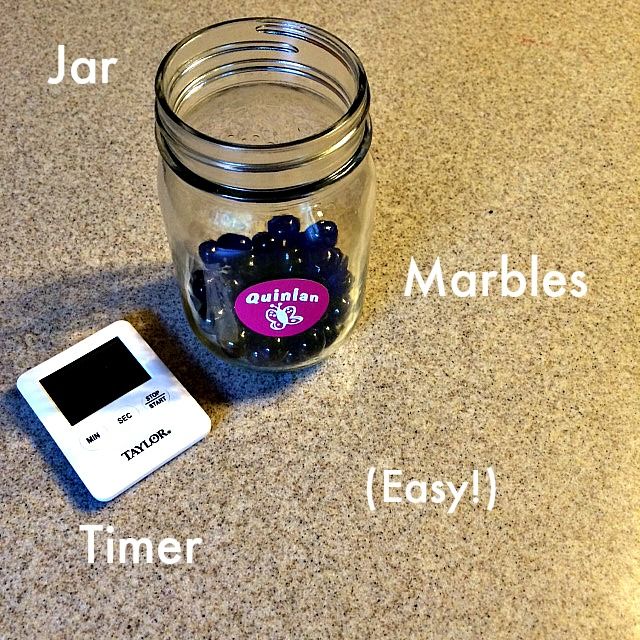 I'm pretty much following Kristen's Marble Jar idea to a tee and it's been working well. If my kids do something that's a challenge for them without being whiny, like bedtime routine, cleaning-up after dinner, extra chores, you get the idea), they earn a marble. Every marble is 10 minutes of screen time. No session can be longer than 30 minutes, although I've extended to 60 minutes between school ending and camp starting where they have nothing else. –Stacie, mom of two, ages 6 and 9
2. Screentime Point System
We limit iPad use to the weekends only, which my kids get by earning table manners points all week at dinner. I add up the points at the end of the week and that's how many minutes that get over the weekend. It usually ends up being around 30-45 minutes divided by two weekend days. –Allison, mom of two, ages 5 and 7
3. Read or Play Outside for Screentime
Overall, my rule is that they must have chores done before screens, and then can spend as much time on their gadgets as they do either playing outside or reading a book.
Since my kids are older, it's a little challenge to keep a clock or timer. Instead, I'm trying to have them learn some self discipline, asking them "How long have you been on the screen? Do you think it's time to get off?" If I get any pushback, I just reset all the passwords. Ha. -Lisa, mom of three, ages 18, 15, and 12
Related: 8 smart tips for managing screen time that you can start right now
4. A Screentime Chore Chart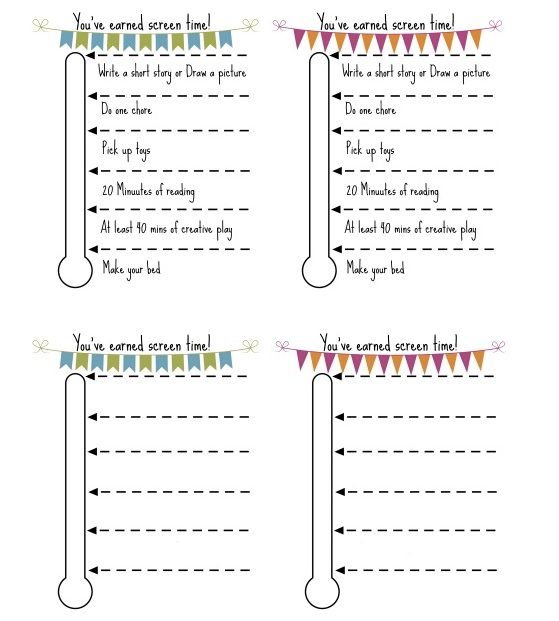 My kids get cranky with too much screen time, so I don't give them much. For this summer, we have instituted a Summer Rules sheet. Here's a free printable chart via The Shady Lane that has a similar concept to what I created. They can't even ask me about screen time until they've checked everything off, each day, which includes everything from getting dressed, eating, and making their bed, to reading, math, and other educational activities. In the end, they get about an hour or so of screen time. -Colleen, mom of two, ages 8 and 11.
5. Timed Screentime Sessions 
I've tried various screen management systems, but this summer, I'm going with the very simple "one hour in the morning, one hour in the evening" concept for my younger three kids, once they've completed their chores. It's their job to keep track, however, though I definitely look at the clock as a back-up. So far, it seems to be working very well and it doesn't involve me keeping up with any charts, which I honestly don't have the bandwidth for. -Kristen, mom of four, ages 12, 9, 7, 5
6. Morning-Only Screentime (Or at special times)
I really like to sleep in — especially in the summer. But my kids don't. So my rule is that they can have screens when they wake up in the morning until I get up, then it's off until I'm cooking dinner in the evening. My philosophy has always been to use screen time strategically — when I need them occupied so I can get something done. So if they get it all the time, it's less special and won't work when I need them busy. -Kate, mom of three, ages 11, 9, and 6
Top image via Wayan Vota/Flickr Creative Commons