Summer nights are perfect for staying up late, lying on the lawn (or roof deck if you're a city dweller) and looking up at the stars. But, often, streetlights and other ambient light can make it hard to see everything that is up there clearly. Or, truthfully, I just don't know what to tell the kids when they point at some bright speck and say, What is that?
That's why I'm so interested in the SkyView app, a free app for iOS and Android, that is a stargazer's best tool for making the night sky not only beautiful but also educational.
SkyView is so easy to use: Just point your phone or tablet up at the sky, and SkyView will identify all those little twinkling specks in the sky. But, it doesn't stop with naming the variable star Cheleb, the planet Saturn, or the International Space Station. Click on the "info" button for loads more information that will keep aspiring astronomers busy reading and learning.
I also love that constellations appear in outline so that you can actually see which stars comprise Gemini or Orion. And when things get really dark outside, switch the view to night vision, enabling you to scan from your device to the sky without needing that moment for your eyes to adjust.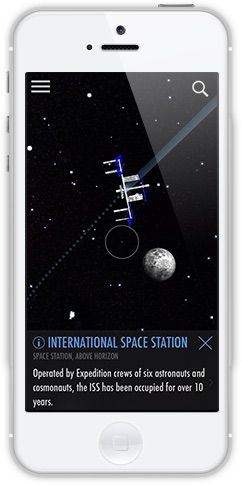 Grab a free copy of this useful, educational STEM app now. Then when the kids jump onto the couch and ask what you're going to watch tonight, tell them you're all going to head outside and watch the stars.
Download the free  SkyView stargazing app, for iOS and Android from Terminal Eleven.