We recently shared tips for throwing a birthday party on a budget at Cool Mom Picks, and one of our favorite tricks is to use online invitations for the party. Not only does it save you a lot of money, but it makes tracking so much easier, from who's coming to what they're bringing. And better, you can easily send updates on party info down to the last minute.
When I'm hosting a party, I turn to these great online invitations sites first. From their top-notch designs to the extra special features to help you manage your party, these have made my life so much easier.
Related: Emily McDowell's witty cards, now on Paperless Post, yay! 
Related: 14 fun birthday traditions for kids you can start right now
Paperless Post is known for their modern designs, partly due to their partnership with designers like Rifle Paper Co, Kate Spade, and our favorite, artist Emily McDowell, to create amazing invitations for everything from your wedding to a baby shower. All their invitations are unusually chic and expensive-looking, but they've got plenty of fun-themed party designs for kids too.
If you haven't fully embraced the idea of emailing invitations, Paperless Post also gives you the option to send hard copy invitations through regular mail.

Related: The coolest, not-so-scary monster party ideas for Halloween
Hobnob has taken online invitations fully into the 21st century, with custom invitations you can design and send through text. Their designs are very modern, using a lot of photography and text overlays to send the critical info to your friends and family. Once they receive the invite, they can simply text their RSVP and Hobnob will capture it and track all that info for you.
Another cool feature at Hobnob is the ability to request photos from the events from everyone who attended, so you can spend your time enjoying the party instead of doing double-duty as hostess and photographer.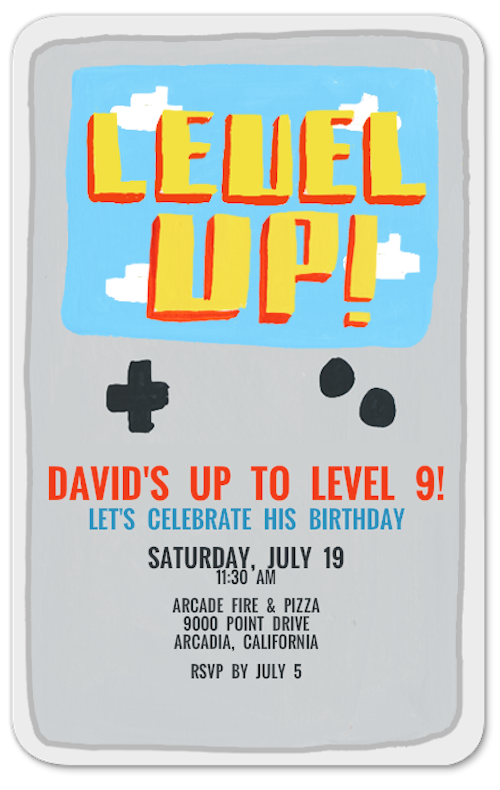 Related: Some of the best superhero party ideas for kids
Evite is the original source for, well, evites. But now, they offer both free and premium party invitation designs, even allow you to upload your own design to use, a nice feature for those of you who are skilled with PicMonkey or Photoshop. They've recently added a new "open invitation" feature too, which lets you share the invitation without having to enter everyone's email addresses, which is really handy for a school party where everyone is welcome.
That said, if your invitation list is limited — which is most parties, we'd think — their guest management page is pretty sophisticated. It goes way beyond just tracking RSVPs. You can see who has read the invitation, remind them to update their status, and even change RSVPs for that guest who stopped you in the school drop-off line to say they're coming. And once they RSVP to the event, your guests can even go ahead and buy a gift directly through Evite, making the process easier for them too.
And if you're throwing a party and need gift ideas, be sure to check out our Birthday Party gift guide!