Along with Turtle Mail, one of my other favorite finds at Toy Fair was Helio, a cool, educational nightlight that actually helps your kids learn as they fall asleep. And as someone with a child who has sleep issues, you can probably guess why I got so excited when I saw this.
Created by a mom and dad who were struggling to get their son to learn his sight words, the first Helio model was actually made MacGyver style – from replacing a dream light's top with sight words and projecting them up on the ceiling. When his teacher was amazed at his progress, these smart parents decided they might actually be onto something. And from what I can see, I think they definitely are.
Related: Moonlite – The magical device the projects bedtime stories on your ceiling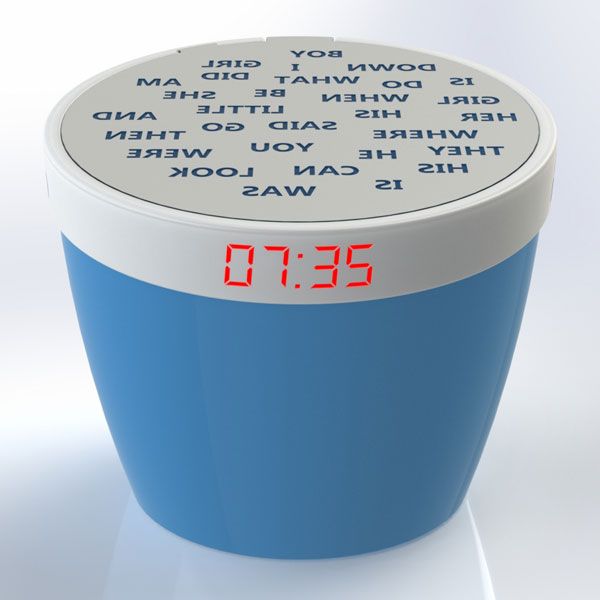 The Helio is a clock and nightlight, but when you place their custom discs on top, it becomes a very cool learning tool for kids, illuminating everything from sports to animals, even math and of course, sight words, as well as pretty much everything in between, up on the ceiling. They can even make custom discs; I'm thinking "Don't forget to empty the dishwasher and practice your viola!" for my house.
Related: 5 helpful solutions for big kids with sleep issues
It's definitely pricey as far as nightlights go, but it's hardly an average nightlight. And while you do need to purchase discs beyond the five included with your Helio base, I can see this being quite an effective tool for kids who need some extra educational support or just need a little help occupying their brains as they fall asleep. Granted, I'd be curious to see if my nervous sleeper would be soothed to sleep or would get a jolt of energy seeing all the information and facts about the Presidents (his favorite subject as of late) But the information is stagnant (rather than moving or rotating), so I'd guess after a bunch of times reading it over, they'd be lulled to sleep (sort of like counting sheep).
If you've got a kid who's struggling in school or hey, with sleep, this might be something that could work for you.