In a recent New York Times article, one of our favorite organizational apps Unroll.me was mentioned as selling user data (specifically emails with Lyft receipts) to Uber, and not surprisingly people are worried, including us. We've been using this app for years now, and have been recommending it since we first discovered it, so you can imagine we were surprised to hear the accusations.
So, we decided to take a closer look at the Unroll.me Terms of Service and Privacy Policy, as well as speak to someone on their team to get clarification about what exactly is happening and whether users' privacy is being violated. If you're wondering whether you should cancel your subscription, we've got the scoop on what you need to know.
Related: 5 Facebook privacy tips you should check right now
What you should know about Unroll.me 
1. According to Unroll.me, they never have access to logins for Gmail, Yahoo, and Outlook accounts, which is very good news. Also, a good reason to switch to one of these "big 3" email providers if you're using an old Hotmail or AOL account. (PS: Email accounts are free so you can have lots!). Now, it's not that they are looking at your logins with those other accounts, but it's that those services have different authorization policies.
2. The data being sold does NOT include any personal information, which is clear on their Terms of Service and Privacy Policy, and in this statement we here at Cool Mom Tech received from an Unroll.me representative.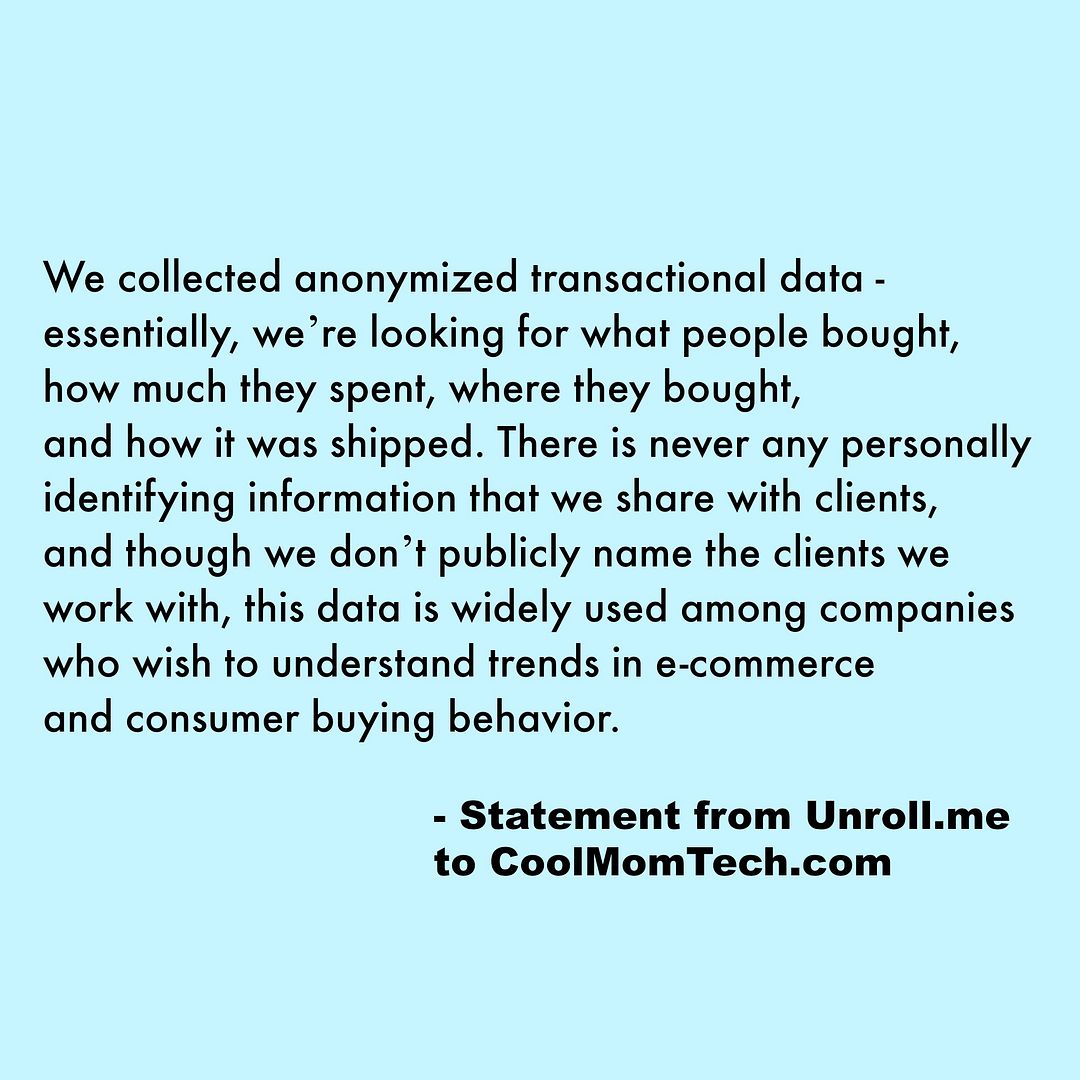 In this Verge article where the Unroll.me CEO apologized that the Terms of Service were not as transparent as users would like, it was noted that Unroll.me is far from the first company to mine emails for marketing purposes. Take Gmail, for example, which mines your emails to serve you ads across all their platforms. Wondering why you are seeing Advil ads on YouTube when you never searched for Advil? It was probably in your email. So, chances are other apps you're using are also doing this and you probably don't know it.
3. We all need to read more carefully, and check our settings. If you are getting your Lyft receipts, or any receipts for that matter, rolled up in Unroll.me, you can change that setting so it's only specific subscriptions. Instead, create a Gmail folder for them labeled "Lyft Receipts" and have them automatically dumped in there. You can do the same with any other emails you're getting that you don't necessarily want rolled up.
With many apps, certain settings will be pre-set for you, so take a few minutes when you download a new app or sign-up for a new service to check the privacy settings to ensure they're up to your personal standards.
And if you have decided you want to discontinue using Unroll.me and you're a Gmail user, you'll want to be sure to delete it from your Google connected apps. Simply closing your account might not be enough.
Related: A change to the Google Privacy Policy you should know about
Bottom Line 
Unroll.me clearly stated in their Terms of Service that by using their app, they have the right to sell your data (minus your personal information). Given that this is a common marketing practice with many apps we all currently use (hello, Gmail), we'll be continuing to use the app, with our settings carefully checked (and rechecked) to ensure there's nothing, even anonymously, we don't want shared.