Whatever the case may be, whether it's sick kids or new neighbors, giving meals goes a really long way. And, of course, tech helps. Seriously, how did our parents survive without it?
Here, I'm sharing my 3 favorite go-to sites for coordinating meals for friends, from a site with loads of options, to a very basic site. If you aren't already organizing meal delivery the 21st century way, give it a try.
Related: Fresh takes on great meals to take to new parents. Move over, casseroles.
Give in Kind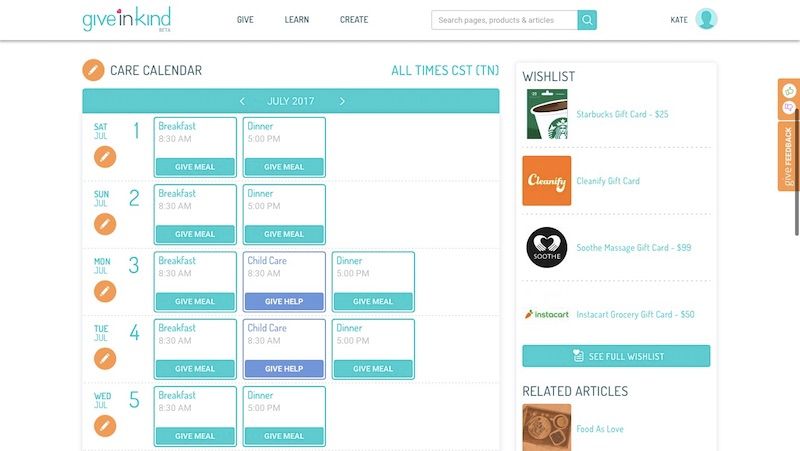 If you're looking for bells-and-whistles, Give in Kind is a terrific site that helps you organizes meals to deliver to friends and neighbors, and a whole lot more.
For new parents, this is a bit like a baby registry meets meal calendar, with wish list items to choose from. It's actually perfect for newly adoptive parents or foster parents too, who may have brought their child home last-minute without time for a proper baby shower beforehand.
You can set up plans to support all kinds of people who could use a home cooked meal, like a parent whose partner has just been deployed, or someone nursing a sick kid. Of course, you can also just schedule meals.
I like that there are tons of cool features for supporting families in need, like raising money (through PayPal) or creating a wish list for items they could really use — maybe a grocery gift card, maybe a massage.
Meal Train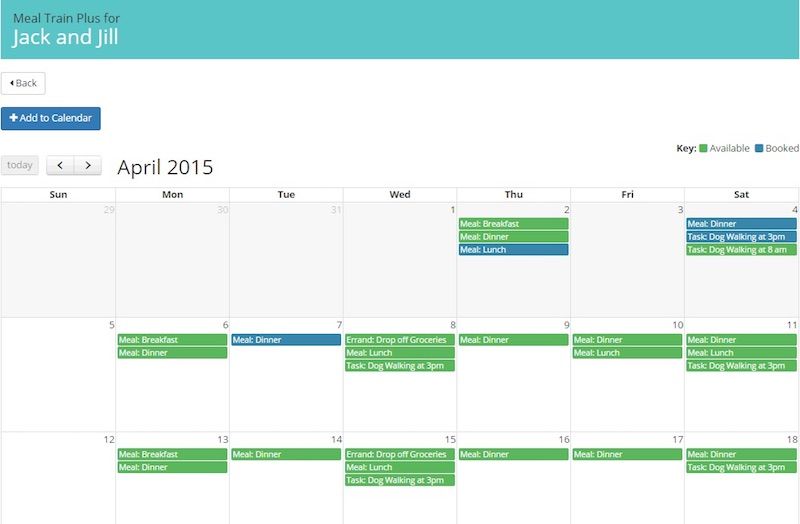 You can find bare-bones, no-frills meal coordination at Meal Train, but they also have an upgraded Meal Train Plus option if you prefer a system that looks like a Google Calendar. This way,  you can add "events" and friends or family members can claim them. Events could be anything from helping with childcare, to walking the dog, or giving them rides, all in addition to meals.
For a family who needs a little more help than normal, this is a great option that isn't quite as involved as Give in Kind but still gets the job done.
Related: 5 must-have apps to help with holiday dinner plans
Take Them a Meal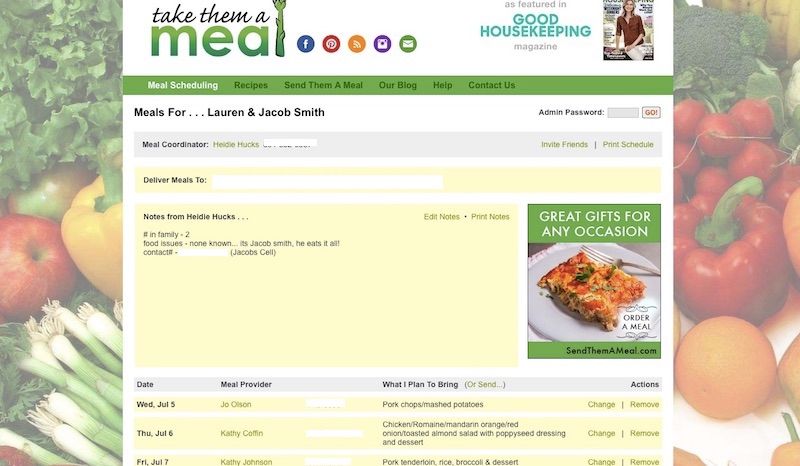 Take Them a Meal is the site I typically go to for setting up a very basic meal calendar for a friend. That's because it's bare-bones and easy to use.
When you set up the calendar, you can mention any food allergies or notes from the family — for example, maybe Grandma will be visiting for a week, so an extra meal will need to be planned then.
I love that people can share what foods they're committing to bringing, so no one receives lasagne drop-offs 6 days in a row. And if you find yourself in a bunch and can't take the meal after all, you can select the website's  "send them a meal" option and have a homestyle meal delivered to their door.
Photo at top by Igor Miske via Unsplash.