We're so pleased to share our annual Holiday Tech Gift guide with you all, starting with one of the categories you all ask us for the most: The coolest Tech gifts for guys under $50. Of course we'd like plenty of them too–coolness often knows no gender. (Except maybe for that shaving kit.)
And we're so pleased to present our guide this year on behalf of our sponsor, Sharper Image, who knows a little something about cool tech gifts under $50 themselves. If there's one site that we can never stop browsing (and browsing and browsing…) it's Sharper Image. Which is why we're excited to include a few of our own favorites spotted at their site as well.
And hey, it wouldn't be a Cool Mom Tech guide without an awesome giveaway, and we've got that very thing. Including a brand new iPad Air 2! Scroll down for the details, and happy shopping!
Bluetooth Headphone Adaptor ($39.99 at Sharper Image)
When we discovered this genius gadget earlier this year, we were sold. It lets you control and listen to music or take calls from any Bluetooth device at all, including your laptop. Just pair it, plug in your headphones, and go.
Roku Streaming Stick ($49.99 at Roku)
Have we mentioned lately that we love Roku? This is the most affordable, easiest way to catch every streaming show and movie imaginable, and take it on the road, too.
Harrison black leather iTouch tech gloves ($45 on sale at Bluefly)
Heaven forbid anyone freeze one hand in the winter while responding to that ever-important Facebook comment.
bēm wireless mobile speaker ($39.99 in red or orange at Target)
An excellent little portable Bluetooth speaker at a truly awesome price.
LEGO Miniature Retro Game Console Building Kit ($39.95 at Powerpig)
Find 230 pieces in this kit including two classic joysticks and a gaming cartridge. Not included: Physical therapy for "Atari Thumb."
Fairbault for Target Wool iPhone Sleeve ($12.99 at Target)
This iconic Minnesota wool brand now has a super affordable line at Target including tech accessories like this phone sleeve.
Rechargeable USB Travel Razor ($39.99 at Sharper Image)
Sleek, thin, and great in a pinch for the tech-savvy traveler whose prone to 5:00 (or uh, 1:00) shadows.
Microchip Cufflinks ($49 at Josh Bach)
What geek wouldn't love this awesome homage to the microchip that still manages to look swanky?
Cordito Handmade Leather Cord Wrap ($45 at This is Ground)
We love this company that handmakes gorgeous accessories to keep your tech organized on the go. It comes in a ton of colors now but this wine is really handsome.
100 Greatest Sci-Fi Classics DVD Collection ($49.99 at Sharper Image)
This 24-disc set should keep him entertained through a long, cold winter. Or heck, a long, hot summer.
Flip wallet for iPhone 6 ($54.41 at Toffee Cases)
Got a new iPhone 6? If you like it then you should put a case on it. This one's pretty swell.
Smartphone Projector ($27 at Uncommon Goods)
Such a fun, affordable gift, just pop in your phone and project your videos and vacation photos on the wall. Just like Grandpa used to do.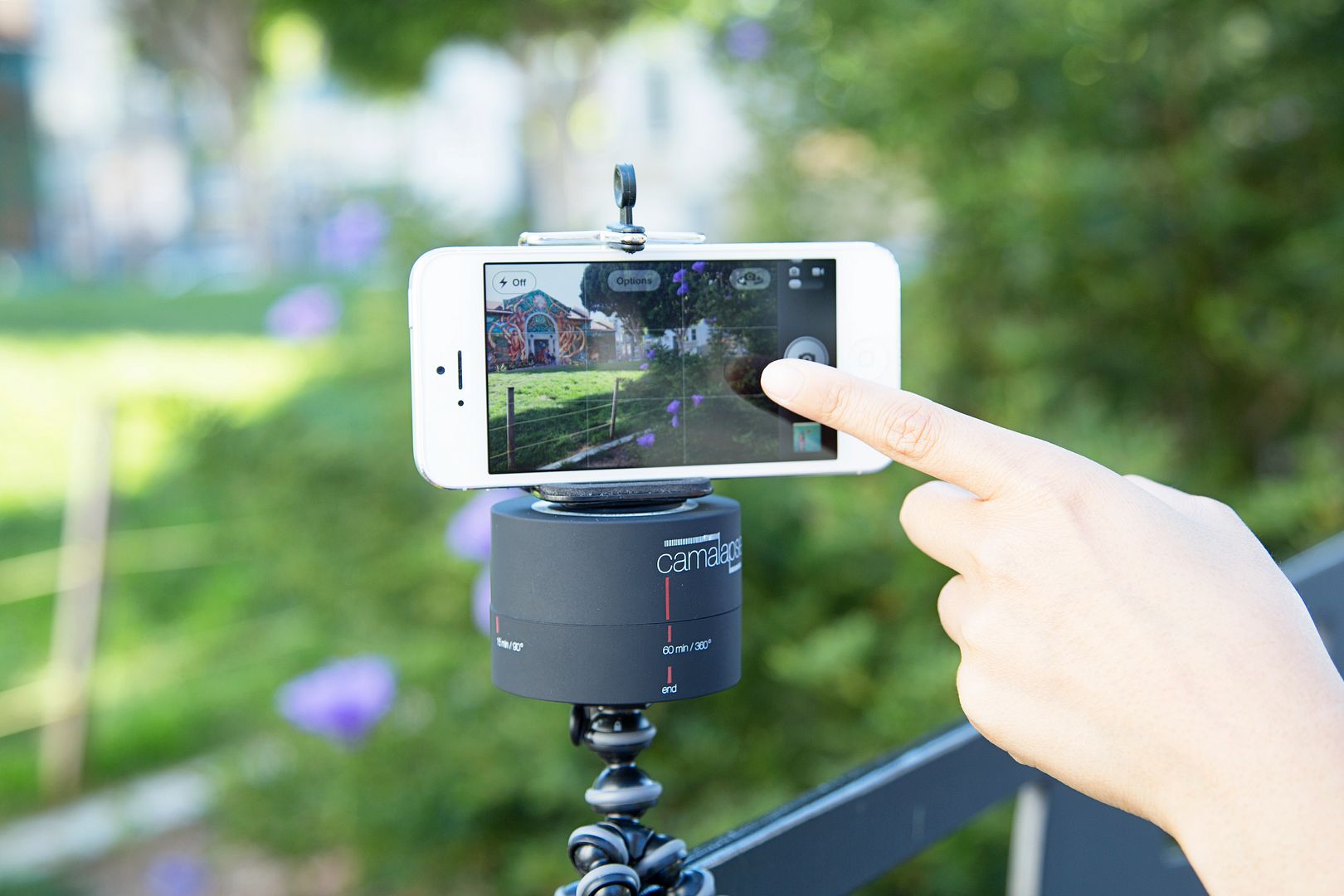 Camalapse Time-Lapse Video Mount ($30-40 at Photojojo)
We love this slow rotating stand for photo timelapses that holds a point-and-shoot, your dSLR, or an iPhone or Android phone with a tripod mount. Rotates 90 degrees in 15 minutes, or 360 degrees in 60 minutes so you can do something else. Anything else.
Evernote Edition Moleskine ($32.95 at Nordstrom)
It comes with  stickers that allow you to sync your notes with the Evernote app so they're automatically digitized. It even comes with a 3-month premium Evernote subscription.
War Games tee ($28 at Fab)
We are so laughing at this series of one-sentence movie summary tees from Stereotype Designs, but he'll feel extra smart knowing the answer to this 80's classic without a hint.
3-in-1 Handwarmer, Flashlight and Mobile Charger ($34.99 at Sharper Image)
We love all kinds of mobile chargers, but this one is especially handy as it works as a flashlight too; and even more cool–it's a handwarmer, so you can warm up that texting hand. That is, unless you've bought the touchscreen gloves.
Moshi Mythro Earbuds ($30 at Amazon)
Also one of our top picks this year for Father's Day Tech gifts under $50, they're a phenomenal buy at this price, and that gunmetal gray is a stunner.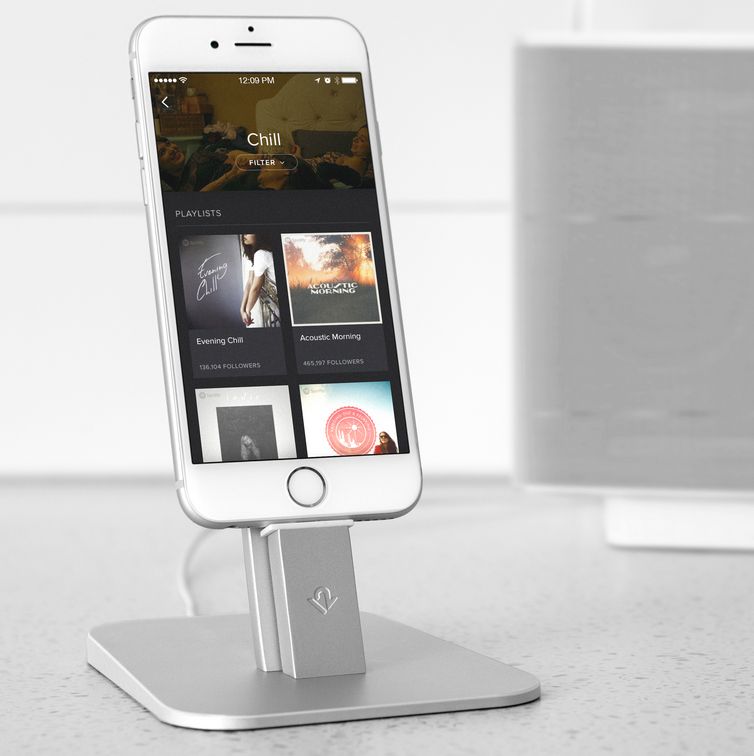 HiRise Deluxe iPhone or iPad Stand ($34.99 at TwelveSouth)
This brand new stand just out from one of our favorite Apple accessory companies is beautifully designed in every way. Perfect for iPhones, iPads, or even the new iPad Plus — should he be lucky enough to have received his already.
Anker 5-port USB charger ($25.99 at Amazon)
Our new favorite tech gadget must-have, for anyone frustrated finding enough USB ports for everyone. Or just for yourself.
Xbox 360 Wireless controller ($39.99 at Amazon)
After 40 hours of wireless play on a charge, you'll get him back again. Temporarily.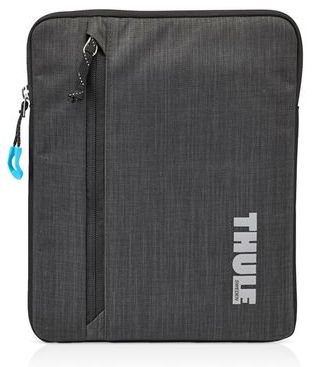 Thule Stravan Sleeve for iPad Mini ($39.95 at Apple Store)
Great fit, water-resistant exterior, and plenty of padding–just what you want for your precious Mini. If he's extra good, you can even include the Mini. Though that will cost decidedly more than $50.
Sharper Image e-gift card ($10+ at Sharper Image)
If you still can't pick the perfect gift, he can do it himself. Fun!
EXTRA COOL: WIN IT!
A brand new 16GB iPad Air 2 in your color choice from Cool Mom Tech |  Polaroid Digital Pocket Camera from Sharper Image | WowWee MIP Autonomous Robot from Sharper Image | Beats Solo 2 On-Ear Headphones from Sharper Image
We're so excited to have put together one amazing $1,000 tech giveaway in part from our sponsor Sharper Image, featuring some of our very favorite tech gifts for everyone in the family. And there are four chances for you to win!
To enter:
1. Like Cool Mom Picks on Facebook and share this post on your Facebook wall. Then email a link to your Facebook update to us at contests@coolmompicks.com with TECH GIFT GUIDE in the subject for it to qualify.
-FOR EXTRA ENTRIES –
2. Follow Cool Mom Tech on Twitter and share this post from our Holiday Tech Gift Guide on your Twitter feed, being sure to tag @coolmomtech and use #cmtholiday in your tweet. Feel free to tweet something fun like I love the @coolmomtech holiday giveaway because… ooooh gadgets http://bit.ly/11Sebgh #cmtholiday.
Remember to add a link, of course! But what you tweet is up to you.
3. Follow Cool Mom Picks on Instagram and share your favorite photo from our gift guide on your feed, being sure include @coolmompicks and the hashtag #cmtholiday in the caption. Hey, we'll even regram some of our favorites.
4. Follow Cool Mom Tech on Pinterest and pin your favorite photo from our gift guide on your feed, being sure include @coolmomtech and the hashtag #cmtholiday in the pin. We can't wait to see what you love!
The Nitty Gritty:
You may enter up to four times total per Holiday Tech Gift Guide post, once per social media platform mentioned here. One winner will be drawn at random on or around January 1, 2015. You must be a legal resident of the US, 18+. Contest ends 11:59pm EST on 12/31/14. Void where prohibited. Any taxes on prizes are the sole responsibility of the winner. Items subject to availability which means you might not get your first choice of color/style but we'll do our best. Please follow the contest rules or you will be disqualified and we will feel super bad for you. Be nice to strangers. Clean your smartphone. Don't drink spiked eggnog then tweet.
Thanks to Sharper Image for sponsoring this year's holiday tech gift guide. All picks have been determined by our editorial staff; there is no compensation in exchange for recommendations. Some picks may contain affiliate program links including Amazon and Reward Style.

And for more cool tech gifts for everyone on your list at any budget, make sure to check out our 2015 Tech Gift Guide.