The first thing I said after carefully freeing my new iPhone 6 out of its white box was: I'm going to need a case for this. Moving up from a 4s, I'm still getting used to this larger version. Making things slightly trickier is the slippery factor of the new iPhone which is why an iPhone 6 case is essential. Besides, haven't you all seen the video of the dude in Australia dropping his brand new iPhone 6 as he unboxed it? Right.
Since I quickly got tired of handling my new phone like it was made of glass, I hit up my local Apple store to cop a case. However except for a handful of Apple's own custom-fit, red, silicon cases, they were basically sold out. Guess I'm not the only one trying to get a grip on the iPhone 6 slip quotient. So to help us all find the perfect outfit for our new, skinny best friends, here are some of the coolest iPhone 6 and iPhone 6-plus cases I've seen– so far.
An iPhone 6 case if protection is priority
The Otterbox Defender Series is pretty tough to beat — literally. It has the same triple-layer, rugged protection the company has become known for . Plus, the built-in screen protection guards against scratches, scrapes, swan dives, and toddler crumb-hands. As with other Otter Box phone cases, there are plenty of color choices or you can customize it with your own color combos–although the design series selection hasn't quite caught up with the selection for iPhone 5 yet. (Available now at $60 for iPhone 6 and $70 for iPhone 6 Plus on Otter Box.)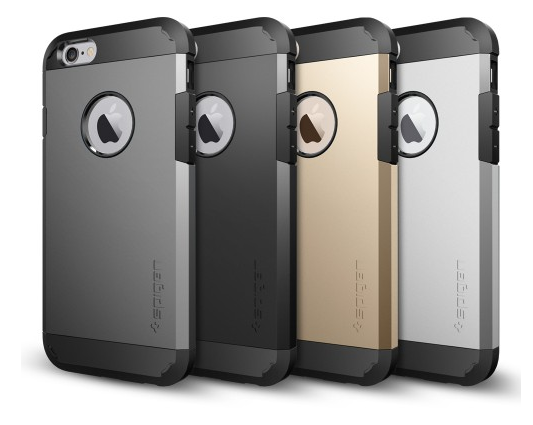 For more streamlined durability, consider The Tough Armor case for iPhone 6 from Spigen. It has two layers of protection, including a premium polycarbonate — no silicone — and its Air Cushion Technology corners keep it slim and not as bulky as other rugged cases. Take your pick of the four steely colors and the price is nice. (Both iPhone 6 and 6 Plus cases are $35 on Spigen. We also found Spigen cases on Amazon, and the reviews there are fantastic.)
PureGear's DualTek Extreme Shock Case for iPhone 6 and 6 Plus offers another tough-but-lean option. With its durable layers, ergonomic side grips and shock absorbing corners, this one is all about sleekness. There are only two color choices for the Plus — matte black or arctic white — but there are few brighter, fun shades up for grabs for the 6. (Both the iPhone 6 and 6 Plus cases are $35 on PureGear.)
An iPhone 6 case if you're going for hipster cred
You know how much we love fun iPhone cases, and Society 6 has a lock on so many unique, fun cases for your new iPhone. I mean, the retro camera? Bill Murray in profile as a Russian General? The original Sherlock Holmes door? A fat unicorn with a jet pack? Awesome. And there's so (so) many more great ones to choose from from hundreds of independent artists.  (Available for iPhone 6 and 6 Plus for $35 on Society6.)
Related: The popSlate iPhone case gives you an extra screen
Is anything hipper than the NYC skyline? Well, maybe proclaiming that you can see it every day from your loft in DUMBO. The workmanship looks gorgeous on this handmade wooden iPhone 6 case which is now available on preorder from Carved Products on Etsy. And if you're more West Coast, yo! there's a Seattle Skyline iPhone case too.  (Available for iPhone 6 for $24 on preorder at Carved Products.)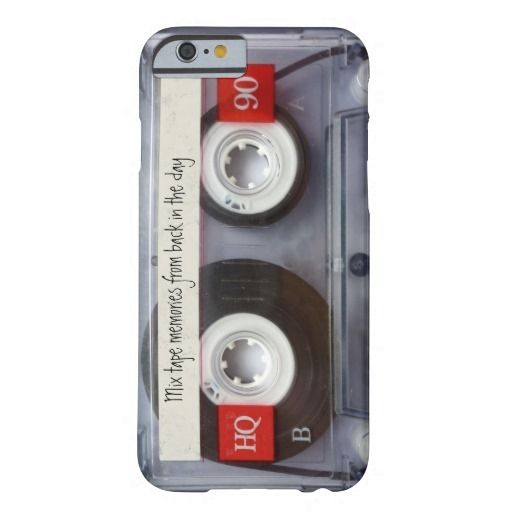 If you like the whole retro thing, go throwback with these hilariously cool iPhone 6 cases on Zazzle.  Lots of options here from the ironic to the extra ironic. If you're like me, you'll probably find yourself clicking and chuckling for much of the afternoon on this site. (The 90s Old School Pager iPhone 6 case can be personalized, $42; the Pay Phone iPhone 6 Plus case and retro cassette case, each $43, on Zazzle.)
An iPhone 6 case if you're keeping it professional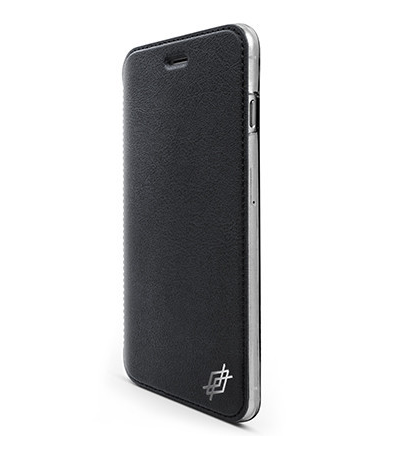 Not everyone wants to walk around chatting into Bill Murray's head. In which case, check out the more professional options like the Engage Folio for iPhone 6 from X-Doria  which is tough, but oh-so smooooth. The back is made of a hard polycarbonate that keeps your 6 and 6 Plus protected. It's also clear, so the beauty of that lovely new phone shines through. The leather-ish front flap keeps the screen safe, and the inside of the cover provides some slots for a couple of credit cards or business cards, and your ID.  (Available for both iPhone 6 and 6 Plus for $30 on X-Doria.)
Apple's official custom-fit iPhone 6 leather cases are slim and simple. And as I've mentioned, possibly your only choice if you're shopping at the Apple Store. Still, they're a nice choice. You can go for basic black or soften things up with a muted pink, or any of the five colors.  We happen to be partial to the red one which supports PRODUCT (RED) (Available at Apple, $45 for iPhone 6 case and $49 for the iPhone 6 Plus case.)
Coming soon from toffee is the sharp looking flip wallet for iPhone 6 and 6 Plus. This smooth-operator promises leather like buttuh and a contrasting fabric lining on the inside for a pop of preppy personality. (Both sizes are $50 and available for pre-order at toffee.)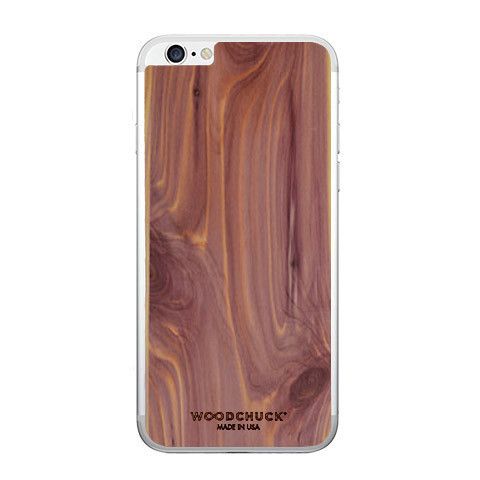 WOODCHUCK's super-cool, wood phone skins for iPhone 6 are 100 percent made in the USA and 100 percent real wood. The special adhesive makes removing the the wood skins easy, without leaving and weird residue behind–something you'll want if you change your cases like you change your jewelry. (Both sizes are $20 and available on WOODCHUCK.)
Related: Handmade wood iPhone cases from Native Union
An iPhone 6 case if you're all about style
If you're looking for a designer name, Kate Spade seems to be first out of the gate with the gold striped Kate Spade iPhone 6 case. The shell is rigid, it's got some decent impact protection, and ooh is it cute. (For the iPhone 6, $49.99 on preorder at the Verizon Wireless store, ships 10/3)
The Case-Mate iPhone 6 case selection is rather impressive, from the cool gold specked Karat Case ($50) to the glitzier-than-though Brilliance Case ($80) in colors like Champagne and Oil Slick. (But of course, dahling.)
They've also collaborated with Rebecca Minkoff, who's no stranger to awesome tech accessories, on the Rebeca Minkoff Snake Print Tough iPhone 6 Case which is priced nicely at $38–or a studded iPhone 6 case in gold, teal, or shown here in go-with-everything black. (iPhone 6 cases $25-80 at  Case-Mate)
Related: Gorgeous iPhone cases that look like marble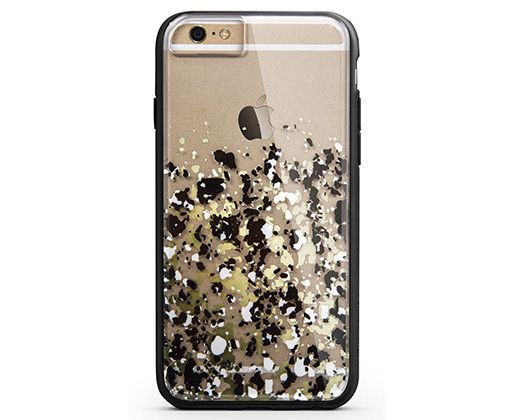 Clearly the precious metals thing is a theme, and X-Doria's Scene Plus cases for iPhone 6 bring it to life in a pretty neat way. While there are versions for the 6 Plus, they don't quite fit in the style file like the 6 does. The 3D patterns bring  a new, fun, "shifting" effect–the photo hardly does it justice–and the wraparound rubber bumper protects your device from getting into scuffles with tabletops and other danger-for-phones zones. So it's not just a looker. (Available for iPhone 6 for $30 on X-Doria.)
For something less showy, Speck's CandyShell Inked iPhone 6 case is military-grade protection with its scratch-resistant coating and hard-soft dual layer design. The ombre design shown here is exclusive to Best Buy (there's a purple version for Target) and is so on trend, it's sold out. Give them your deets if you want a notification when they're back in stock. (Available for $40 for iPhone 6 and $45 for 6 Plus at Best Buy and Target, with info on Speck.)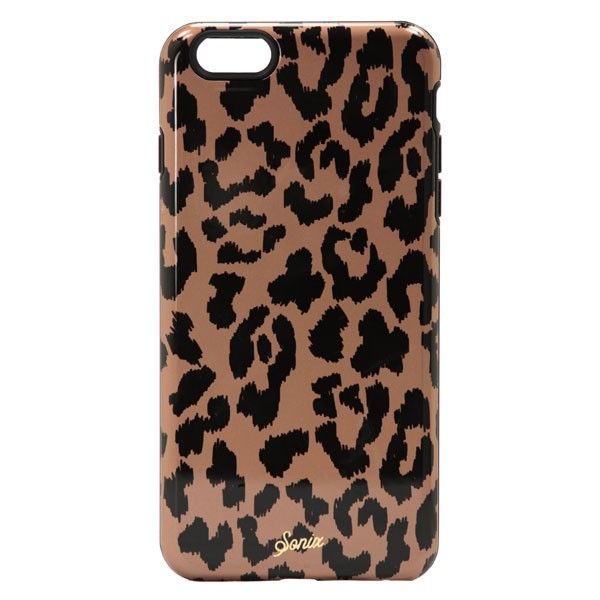 The fashion-fun leopard  iPhone 6 case from Sonix isn't expected to ship until next month, but that doesn't stop us from admiring them. Made with a shock absorbent rubber core which is covered by an anti-scratch polycarbonate shell, it's smart and smart looking. If leopard isn't your thing, there are close to a dozen designs to choose from for both the 6 and the 6 Plus.  (iPhone 6 and 6 Plus case $35 on preorder at Nordstrom | a rstyle affiliate)
An iPhone 6 case if you're going for laughs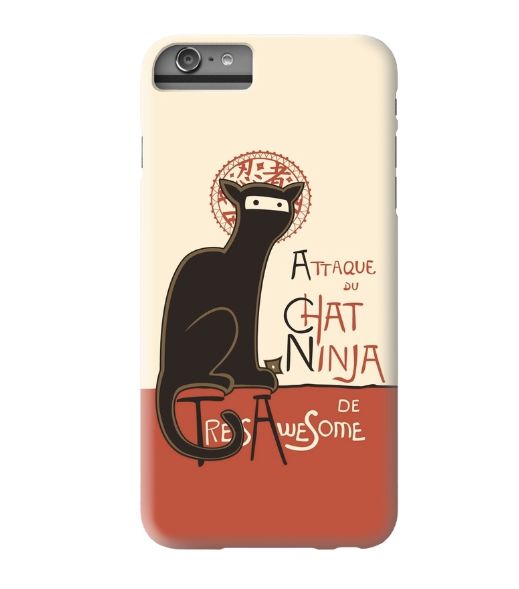 The combination of the classic French chat noir poster with ninja humor–how can we resist?
(The French Ninja Cat iPhone 6 and 6 Plus Perfict Fit case is $29, and the Double Duty version with interior rubber bumper for added protection and shock-absorption is $32 on Threadless.)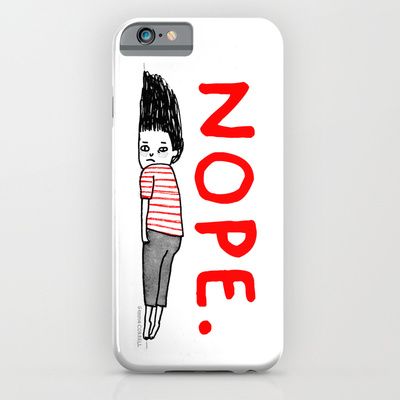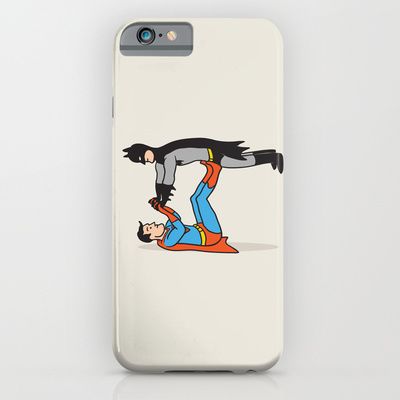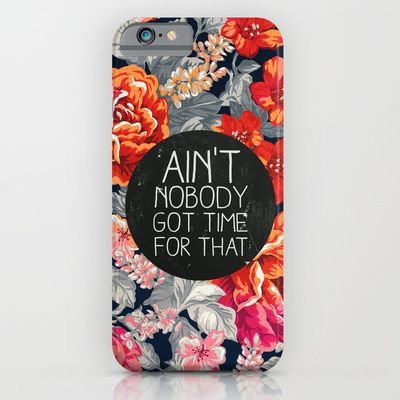 And yes, for humor we're turning to Society6 again. Their artists know from funny, and have plenty of cases that would make us smile every time we looked at them. I'm talking 80 pages worth, each with 25 different cases. Yeah. Plenty. (Slim cases are $35 and the Tough versions are $38 for both iPhone 6 and 6 Plus on Society6.)
Keep your eye on our archives for more iPhone 6 cases as they roll in.