Let's just say that smartphone and tablet games we love are nothing compared with what's coming out soon–console games are alive and motion kicking in the most amazing ways.
Last week, nearly 50,000 people in attendance at the 2011 E3 conference, or the Electronic Entertainment Expo, (plus those of us watching it all online) got a front row seat to the hot news coming from the video game world.
As the human controller (ha) of my family's Xbox and Wii, I thought these were 7 things that parents would want to know about. -Beth
1. Voice search for entertainment on Microsoft Xbox Live:  Microsoft is turning your Xbox into an entire family entertainment hub, starting with easier access to Netflix, Hulu Plus, YouTube, and live TV including exclusive ESPN programming, all through your console. New features will include Bing Voice search for Xbox Live which means you can say "find Toy Story" and poof…there's Woody and Buzz. Even if I can't count on my kids to respond to my voice commands I love that my Xbox will.
Speaking of Xbox, get ready for new Kinect releases like a much awaited Kinect Star Wars game (above). Yay!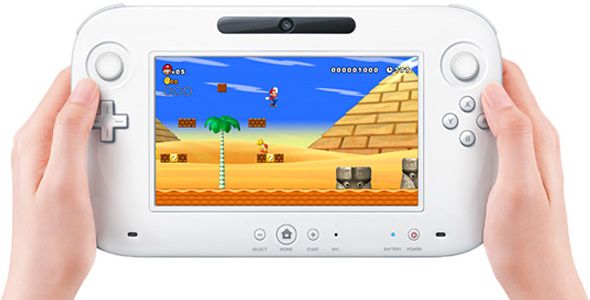 2. Nintendo Wii U: Nintendo announced the next gen Nintendo Wii U, with a "tablet meets gaming gadget" remote controller that folks like Electronic Arts predict will totally transform gaming. We wrote about it in more detail here–that's how excited we are about this. I seriously can't wait to try some of the new competitive and cooperative multiplayer experiences that are coming out.
3. Sony Playstation Vita: It's been a while since a new Playstation launch, and parents will love their new portable gaming device called Playstation Vita. The Vita's features include a 5-inch multi-touch screen and touch pad, front and rear cameras, built in microphone and stereo speakers, and–get this–a motion sensing gyroscope and accelerometer. Sounds like it could be amazing. Although this one will require either Wi-fi or AT&T 3G service for connectivity.
4. More games for little kids. While not every parent is going to want their toddler playing games, it's nice to see that not all of the upcoming releases are Teen rated. XBox Kinect games will include Once Upon a Monster which is all about Sesame Street, and parent-child interaction. Maybe a better way to get kids into Elmo than sitting on a couch? They're also coming out with Disneyland Adventures that Magic Kingdom fans will surely flip for.

5. Dancing, dancing, and dancing: Every parent knows the dance games are the greatest way to get kids (and us!) moving indoors, too. We're huge fans of Just Dance 2 for Wii, and Nintendo just announced an update with Just Dance 3. Sony Playstation is jumping in the game with Everybody Dance (shown) coming out this Fall, and Xbox will offer up Dance Central 2. So glad to hear even more families will be boogying on rainy days!

6. XBox Kinect, now for smaller spaces One of our challenges with the otherwise awesome Kinect for XBox 360 is that you need a whole lot of room for it to work. I'm excited to try out the Nyko Zoom Kinect accessory, which reduces the playing range by 40% and could open the system up to dorm rooms and apartment dwellers.
That's smart, becuase a lot more people are going to want to try out XBox after seeing some of the cool stuff they're doing with Kinect Fun Labs–like drawing around yourself in 3D, Matrix style. Watch the video demo–it's mindblowing.

7.  Easier downloads of video games:  Families on board with digital gaming will be interested in a new online store from Electronic Arts called Origin. Download the free app, and you have a cool new way to download PC games to your desktop or mobile devices. Beats racing to the store when a thunderstorm suddenly brings your tween's entire birthday party indoors.