With the back to school season here (surely you've heard by now), over the next couple weeks we'll be putting together these mini guides on back to school tech to help you out with a few must-haves, helpful apps, and cool ideas. Starting with laptop backpacks for those of you with bigger kids taking the plunge. (The idea of a big kid carrying a laptop to school in a regular old backpack gives us the shivers!)
Here, some of the coolest laptop backpacks that will ensure the precious laptops–and your kids' precious backs–all stay safe.
As you might have seen in the Cool Mom Picks Back to School Guide, metallics are hot this season, which is why I love this awesome Seoul laptop backpack at Kipling with a velcro-closure laptop compartment for your stylish laptop-toting teen. Honestly it's so great looking, I might just have to snatch it up for myself. (Kipling, $69.99 on sale)
The smaller sized Greensmart Kea laptop backpack is perfect for your littler tween and is made from eco-friendly rPet polyester. You can fit up to a 14-inch laptop in the safe padded laptop divider. Seriously great price too. (6PM.com, $31.99)
The pretty Laurex Laptop Bag is big enough for a 17-inch laptop, which fits snugly in a special compartment. Along with the smart round buckle closure, you'll find a handy organizational panel with loops and card pockets, plus an open cell phone pouch. (ebags.com, 76.49)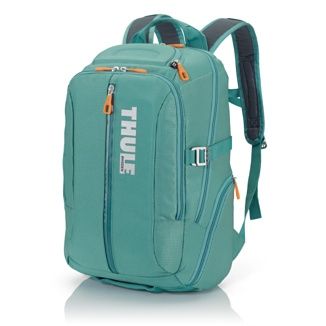 I really like the lockable and removable cell phone or iPod compartment in the 
Thule crossover laptop backpack
which we recommended last year as well. (Still cool!) It's got special compression straps and water-resistent nylon fabric, plus, the padded laptop compartment can fit a 17-inch MacBook Pro. (Apple Store, $99.95)
The Eco-friendly
Mobile Edge express laptop backpack
 is made from a natural cotton exterior and features a SafetyCell computer protection compartment, all with plenty of pockets for cords and chargers too. Plus the ergonomics were made specifically for women.  (Mobile Edge, $59.99)
You can find more cool laptop bags in our archives and find more back to school tech all month long.
Also see:
Back to school tech: Must-have apps for parents
Back to school tech: Educational apps for little kids