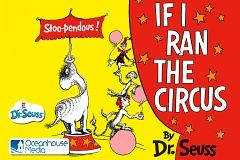 "A wonderful app! It's better than rap! 'If I Ran the Circus' makes me smile like a sap!" Um… sorry. There's just something about announcing a new Seuss app that forces me to rhyme, albeit badly.
We've talked at length about our affection for Oceanhouse Media's
Dr. Seuss apps and are excited to announce a new one that will take you to the world of popcorn, peanuts and elephants.



If I Ran the Circus
Takes you through the "Astounding! Fantastic! Terrific! Tremendous!"
daydream of young Morris McGurk as he imagines his own big top show,
Circus McGurkus, taking over the vacant lot behind Mr. Sneelock's store.
With the app options of reading the story without narration ("Read by
Myself") or listening to the delightful narrated version ("Read to Me"),
or the "Auto-Play" version with its movie-like flow of automatic
reading and turning pages, we again applaud Oceanhouse Media for a
very well-made app. My personal favorite aspect is zooming in and out of the
pages, along with the popping of individual words for emphasis, all of which tie
in so nicely with the rhythms of Seuss.
If you are a fan of Theodore
Geisel, and have a kid who is too (isn't that all of them?) this is a darn good way to spend your $3.99.
— Shari
Find If I Ran the Circus for iOS at iTunes and for Android on Google Play.