Back-to-school is in the air and even young preschoolers can benefit from a little extra help at home with the help of fun educational apps, the latest feature in our Back to School Tech Guide. Some little kids' apps are more educational than others, but each of these 8 picks engage those little preschool minds and get them thinking.
And don't forget to check out our recent round-up of additional free educational apps for all ages too. So many options! -Jeana
Endless Alphabet (iOS)
There is no lack of learning with this awesome educational app that's become a cult parent favorite. Teaching kids their ABCs alongside very grown-up words like gargantuan and hilarious, your preschooler may surprise you with his vocabulary and not just his spelling.
Gus on the Go (iOS, Android, Kindle)
Have a future world traveler on your hands? Or perhaps a preschooler who is already very worldly? If that's the case, she'll love Gus on the Go for learning simple words in languages like French, German, Mandarin, Spanish and many others. And it's now available on Android–yay!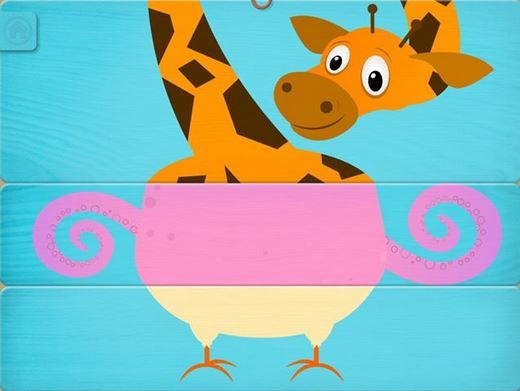 Herd Absurd (iOS)
Trying to match animal body parts and ending up with a cow's head, a pig's body and a giraffe's legs will guarantee a giggle fest from the other room. Kids will love interacting with the various animals in this colorful app which helps teach pattern recognition and matching. Funny animal sounds help.
Learn With Homer (iOS)
This brand new learning system is absolutely wonderful for teaching kids 3-6 basic and comprehensive literary skills. The first 30 lessons are free and you can pay to download additional packets after that–which we guarantee, you'll want to. And so will your kids.
Love To Count (iOS)
Also featured in our Best Math Apps for Kids, Love to Count offers hundreds of logic puzzles involving very cute pirates to help establish the fundamentals of counting, weight, measurement, sequence, direction, and basic fractions. That's way more age-appropriate for preschoolers than it might sound.
SuperWhy (Android, iOS)
If your kids love the show on PBS Kids, they'll really like the companion app with four interactive games to teach basic literary skills. From finding letters with Alpha Pig to identifying letter sounds with Princess Presto, this really makes learning fun. Especially when there are virtual stickers to be earned.
Monkey Preschool Lunchbox (Android, iOS)
This cute app was also featured in our best math apps for back to school. The simple concepts and easy navigation are perfect for younger preschoolers just beginning to explore numbers, counting, colors, grouping, patterns, and more. Love that it helps teach that "math" isn't about numbers, but about patterns and relationships–that's the way to get kids excited about it early.
Pepi Bath (iOS and Android)
Lessons on hygiene should rank high up there for preschoolers, especially if they are going to school and interacting with lots of other kids. Pepi Bath teaches kids the bathroom basics in a fun (and not gross) way and reinforces the importance of things like washing hands, brushing teeth, toileting basics and more. Definitely lessons worth learning.
For more great apps, gear and more, check out the rest of our Back to School Tech Guide 2013!
The best kids' laptops for school