These days, I rarely have any reason to use a printer let alone a scanner. All I need is Hello Fax and I can pretty much avoid the printing, faxing, and scanning all together. But just a few days ago when I had to scan a few receipts for a business trip, I was stuck. Then I found this app and wow, is it awesome.
Now we've featured scanning apps before that I've liked, but I'm really digging Genius Scan, a free app for both iOS and Android that not only does a fantastic job of actually scanning your items, but helping you organize them as well.
All you do is snap a shot of what you want to scan, then the app automatically creates an outline based on its sensors. For the most part, it was pretty accurate, but a few times, I needed to adjust the height and width with my finger. Then you can rotate and enhance the scan (if you need) before saving it a to a document that you can name.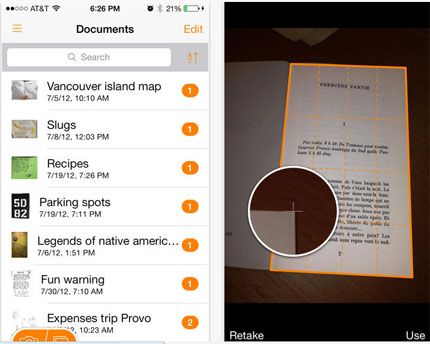 If you're doing a bunch of documents in a set, you can save them all to the same one, which is such a great feature. Then tag it (so you can find it later) and give it a good name. Then you can send it via emai or print it out.
The free version worked perfectly for my needs, but be aware that there are ads in it. If you do a lot of scanning and expense reports, you'll want the pro version, which is only $2.99 and even allows you to upload to cloud services like Dropbox, Evernote, and Expensify to name a few. A small price to pay for always having a scanner in your pocket. Especially as you start thinking about end of year taxes, and saving holiday receipts. Are you ready? -Kristen
You can download Genius Scan for iOS on iTunes or Android on Google Play. The free version is great, but upgrade to pro if you want the fancy features.