We haven't been shy about professing our love for nabi products, especially the nabi 2 and nabi Jr. kids' tablets. So naturally, when we heard about the nabi Square HD camera, a new waterproof, rugged, digital HD camera and video recorder (think GoPro for kids), we suspected we had another winner on our hands.
At first glance, there is nothing overtly "kid" about this kids' camera; no garish primary colors or big buttons. It looks and feels like a solid little camera that shutterbugs of all ages can use, but its compact dimensions and intuitive buttons are what makes it perfect for little hands and photojournalistic aspirations.
ON THE OUTSIDE
There is one primary color that encases the camera – I call it nabi red – the protective barrier that covers all nabi products. It is this outer coating that makes the camera able to withstand those drops and shocks that are inevitable with any kid usage. The device itself measures mere inches wide and the LCD screen, while small at 1.5″, is enough for kids to see exactly what it is that they are shooting.
What also makes the nabi Square camera very GoPro-esque is the awesome waterproof case that comes with it, enabling the camera to become waterproof up to 60m. So basically, your next vacation will be spent with the kids consumed with getting that perfect underwater somersault shot. The waterproof case also comes with several mounts which really adventurous kids can use to strap onto their bikes, scooters, skateboards, helmets and any other moving object.
ON THE INSIDE
The camera takes HD video and 8 MP pictures with its wide angle lens and the controls on the back are pretty basic, which makes it simple for even younger kids to use right out of the box. There's even a self-timer function which means kids can take the time to set up the perfect shot (you might have a newfound family photographer), or even use the included wireless remote to do it for them–like say, when said camera is mounted on their helmets.
For true loyalists who already have a nabi 2 or nabi Jr. at home, the Square conveniently syncs pictures directly to the tablet using the supplied cord or microSD card. And those without the nabi tablets can still broadcast photo/video content onto the TV using an HDMI cable or onto your computer.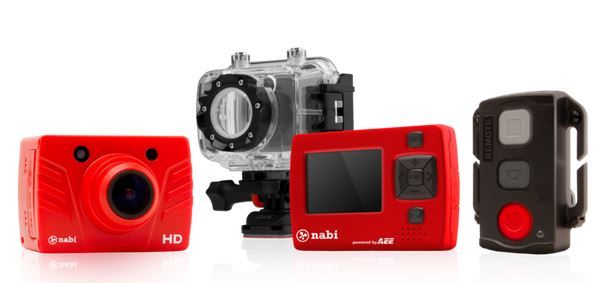 With the case, the mounts, the remote, the cords and of course, the shining star, the camera itself, I so appreciate this truly being an all-in-one, out-of-the-box gift. There are no additional accessories to purchase and no extras needed for kids to cultivate their inner Ansel Adams/Steven Spielberg.
That aside, what really impresses me is the durability and high quality this entire camera kit offers for the price. Though coming from the makers of one of our favorite kids' tablets, I can't say I'm surprised.
The nabi Square HD Camera for kids with waterproof case is available for $169.99 at several retailers.  Thanks to nabi for providing one for review.