I have become a total battery power junkie, never leaving home without at least two portable chargers. Well, that's including my charging case, to be fair. Partly it's the dreaded iPhone battery drain that I've experienced more than I'd like, and partly it's that I get twitchy just thinking about being out and about with 6% power left on my phone and hours left in my day.
So for years, I've been testing and trying and playing around with numerous portable phone chargers. Now, with holiday travel you may have coming up, it seemed like a perfect time to share the four portable chargers that I find I have really come back to over and over again.
CMP is an rstyle and Amazon affiliate
This post has been updated for 2019
JACKERY GIANT

At the top of my list, there's the Jackery Giant + Premium Portable Charger (on sale now for $29 at Amazon). I simply haven't tried a portable charger that's been better for me in any price range. Including ones that are twice as expensive. Pretty amazing, because when I paid $39 for it based on fervent recommendations from friends, I was expecting to lay out a lot more.
You've got two USB ports to charge two devices at once should you need it –there's a a 1 amperage, then a 2.1A which charges twice as quickly and is ideal for tablets. And boy is the Jackery fast! I've brought my nearly dead battery back to the living in under an hour.
As Jackery promises, I get about 5 full charges of my iPhone 5s on one fully charged Jackery–and it holds its charge a good long time. In fact, I can forget about it in my bag for a week and it's still got plenty of juice, even if there's some drain. It can also get my iPad Air fully charged, and while I haven't tried it on a Galaxy Tab 8, it claims to give you about full 1.5 charges there.
It's not quite "giant" as you might think from the name, though it does have some heft to it at ten ounces. You'd notice the weight in a small purse, but not so much in a tote or messenger bag. And it's easy to see how much charge is left by pushing a little button on the side.
Actually, you have to remember to push that same button to start charging; it's not automatic with connection. On the other hand, that's probably what helps limit the drain.  Get a couple in two different colors, so you and your SigOth each have one without fighting over whose is whose. And don't head to an airport without one.
BOTTOM LINE: Outstanding, affordable portable charger for plenty of power that lasts
ANKER POWERCORE PORTABLE BATTERY
The Anker PowerCore 1000 PD Portable Battery Charger (updated version, $45.99, Amazon) is not a name that rolls right off the tongue, but is also a winner. In fact, Anker is fast becoming a new favorite tech brand for me– I want to marry the Anker 5-port USB charger but I don't think that's legal in my state.
I like the Anker charger because it not only keeps its charge and powers up my phone fast — about 1% per minute–but it's a bit sleeker to carry around than the Jackery. When you pull it out in a meeting and stick it on the table, it doesn't look like you're carrying a spare hard drive. In fact, you can stack your phone right on top of it and with that shiny black exterior, they blend right together. It even looks like a phone.
Ankers I've tried do hold slightly less of a charge than the Jackery, but for most people this is still plenty of power, unless you're on a 16-hour flight and plan on going through your iPad battery more than twice. It's also  not a bad purse size — or jacket pocket size, if you're one of our gentlemen readers.  Plus I always appreciate any easy-to-read LED light system that shows me just how much juice is left. It puts me at ease, without even having to plug it in.
BOTTOM LINE: Sleek, powerful portable charger with a lot of juice for its size
MYCHARGE STYLE POWER BATTERY CHARGER
For an emergency jolt of power when you don't need too much, I like tossing the myCharge Style Power Charger (FKA the myCharge Energy Shot; $19.99, myCharge) right into a handbag. It looks nice and solid despite its 2 AA batteries size. And at around 4-ounces, it's small enough and light enough to tuck in even into a small evening clutch, especially if you use it with a very short charging cable.
It's super affordable, and only holds about a single phone charge, but then the benefit of this one is its small size. This is the portable battery I grab when I'm headed out for the night and only need a "just in case" spare with me that's lightweight and unobtrusive.
It also makes a nifty gift, when you factor the stylish design.
BOTTOM LINE: Conveniently small portable charger, for a quick hit of power of the go.
TECHLINK RECHARGE ULTRA THIN 5000 PORTABLE BATTERY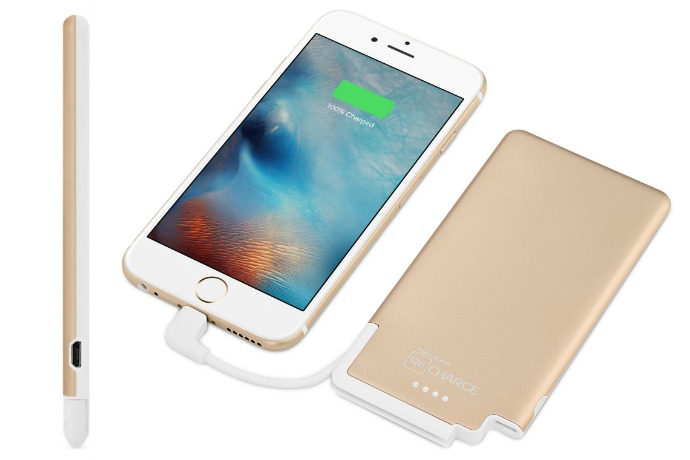 I was so excited to discover the TechLink Recharge Ultra Thin 5000 Portable Battery ($29.99, Amazon) because anything that doesn't require me to carry around a cord–i.e. remember to bring a cord–sounds like something I need. While others have this feature, I appreciate the sleek, very lightweight design and the slightly rounded ergonomic sides make it comfy in your hand, if a little less compact for dropping in a shallow pocket or laptop case flap.
I will be honest, I'm not sure why the reviews on Amazon for some of the colors are so low — I've now owned mine for 4 years and while I don't use it every day, it still holds a charge and works just fine.
It's a solid, stylish option for iPhone users with lightning chargers, though you'll need a USB-to-Micro USB cable to charge it. Plus it comes in swanky gold, silver, and rose gold to match your device.
BOTTOM LINE: Lightweight portable charger slim enough for a jacket pocket or small clutch, with a with a built-in lightning charging cord.
Be sure to check our archives for more chargers and charging cases!